Photo courtesy of NY Post
I began watching football and basketball in the fall of 2004, and continued by becoming a full-fledged baseball fan in April 2005. Initially, I denounced hockey when it returned in 2005 from its lockout the previous year, but about six weeks into the season my grandfather took me to my first Ranger game and I became obsessed.
I've dealt with a lot of shit. A
lot
of shit. In the first season that I followed religiously, the Jets, who I adopted as my team due to my father's being a longtime fan, made the playoffs after a successful 10-6 season. They began the year undefeated, going 5-0 before finally suffering a loss to the New England Patriots. I was so spoiled from the beginning that I didn't even know what losing felt like until October 24, six weeks after the season began.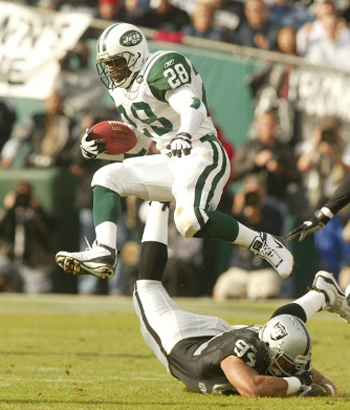 Photo courtesy of Dallas Penn
Curtis Martin captured the rushing title by one yard over Seattle running back (and the guy who was about to dominate the NFL in the upcoming season) Shaun Alexander (leading to a hilarious situation in which Alexander got mad at the Seahawks and coach Mike Holmgren for not running with the ball at the one yard line, causing him to fall short of a tie for the rushing title). Jonathan Vilma won Defensive Rookie of the Year. Chad Pennington only missed 3 games that season, and I fell in love with Santana Moss. In December (my birthday is two weeks before Christmas, so when I receive gifts is such a blur that I have to simply refer to it as "December"), I received not only a Santana Moss jersey that was huge on me at the time (and for whatever reason, still fits me almost ten years later), but a giant Moss poster that was taped to my wall until I moved at the end of 2012.
Everything was going swimmingly at the time. The Jets even won their Wild Card playoff game on the road, defeating Drew Brees and the San Diego Chargers (wow that felt weird to type) in overtime despite an
insanely stupid roughing the passer penalty by Eric Barton
on 4th and 2 with 24 seconds left that allowed the Chargers to tie the game. A missed 40 yard field goal by Nate Kaeding kept the Jets alive, and Doug Brien drilled home a short 28 yarder, 8 seconds away from double OT, to win it.
Little did I know that merely a week later, that the Wild Card game hero, Doug Brien, would become the biggest goat imaginable.