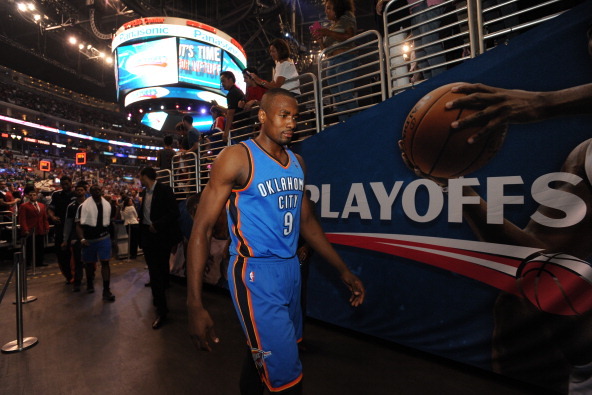 As Serge Ibaka exits stage right for the rest of the playoffs, what happens to the Thunder? Photo from bleacherreport.com
In a second round that was significantly less exciting than the first round, all of the higher seeds advanced, leading us to the exact conference finals matchups that everyone has been expecting since the beginning of the season. Left standing are the two best teams in each conference (only on some days in the case of the Pacers) and now it's time to see who will advance and play for the championship, and the right to have me write about them everyday over a span of about two weeks. That's quite the honor if you ask me.
Eastern Conference
1 Indiana Pacers vs. 2 Miami Heat.
I refuse to admit that changing my pick from Pacers in 6 to Wizards in 6 before the last round was wrong. The Pacers had shown me nothing that suggested that they could handle what Washington brought to the table. In fact, considering that the Wizards messed up their chance to win Game 2, and totally blew Game 4, I don't think that the Pacers
really
did anything to convince me that they have turned back the clocks to January and actually have a chance to beat Miami in a series. On the other hand, the Heat plowed through the Nets, thanks to great performances by the role players, except in Game 4, when LeBron carried the load with 49 points. That is a scary thought for the Pacers, because it shows that if guys like Ray Allen and Shane Battier aren't getting it done, the best player in the world will make sure that his team is in the game.
I don't know what to make of Roy Hibbert at this point so I refuse to comment on him. The Pacers need Lance Stephenson to step up. Prior to Game 6, he hadn't scored more than 12 points in a game throughout these playoffs, which is really low for a guy who dominates the ball so often. Facing off against a slower Dwyane Wade, Lance should be attacking the rim whenever possible. Wade can't keep up with him at this point. They also need Paul George to continue to step up like he did against Washington. He has to go toe to toe with LeBron on both offense and defense. David West will continue to be solid, especially if he's being guarded by Shane Battier.
The key for Miami is actually Chris Bosh. Bosh's ability to shoot from mid-range as well as the three point line will be important, as it will pull Hibbert and David West, who already is not a good rim protector, out from under the basket to guard those shots. Aside from the fact that there's still a chance that he can hit those shots, the lane is now opened up for him to lead a pass to the rim for either James or Wade, or hit an even more open Ray Allen on the perimeter. Passing is an underrated part of Bosh's game, and it will be vital in this series.
Heat in 6.
Western Conference
1 San Antonio Spurs vs. 2 Oklahoma City Thunder.
I originally picked the Thunder to win this series, but while winning the series against the Clippers in Game 6, OKC suffered a humongous loss. Serge Ibaka is now out for the remainder of the postseason, which is a deadly blow. While they have guys to replace him in Nick Collison and Professional Agitator Steven Adams, they're clearly lesser than Ibaka. This is really sad for me, because I picked the Thunder to win the title at the beginning of the playoffs, and because I wanted to see this series to go seven games, but I see no way that it's going anywhere past six games without Ibaka's presence. Not only is he a world class rim protector, he's also one of the more solid offensive players on the team. With Collison/Adams, the ability to stretch the floor by way of the mid range shot is lost.
This also means that Tony Parker is going to have his way with OKC inside. Sure, Russell Westbrook isn't an awful defender, but we've seen Parker get to the rim against tougher matchups. Without someone standing in the middle clogging the paint, Parker will be able to score a lot more than he would have otherwise. Tim Duncan will have an easier time without Ibaka, so expect a lot of pick and rolls to go along with Parker's penetration.
Obviously, the MVP Kevin Durant and Russell Westbrook are not going to get swept, even without their best role player. But, they will only be able to win two games at most against the Spurs, who just rolled through the Blazers.
Spurs in 5.