Photo courtesy of Fox Houston
If you're reading this, it's too late.
(Is that a copyright infringement? Probably. What are they going to take from me? I'm still a minor.)
You're about to dive into a long preview of the entire baseball season that will be way too interesting to quit reading. If you've been on an island all winter and aren't prepared for this baseball season, I've got you covered. If you want to read this just so you can laugh at me when I make a bad call about Tanner Scheppers being good in his move to the rotation, only for him to give up 20 earned runs in 18.1 innings to start the year, and go on the DL for basically the rest of the season, come at me. (In my defense, Scheppers was pitching with an elbow problem, so his four terrible starts wasn't indicative of him being a bad pitcher. Plus, he's redeemed himself in my eyes with a killer videobomb.)
Let's get on with the division by division previews. As always, when I give best and worst case scenarios, I'm assuming the general health of their roster, because I'm not a psychic. If I were, I would have objected to becoming a Mets fan ten years ago, but I'm a mere mortal.
We begin with the AL East.
Photo courtesy of Fox Sports
1. Baltimore Orioles
P Tillman, Chen, Gonzalez, Norris, Jimenez
Team Outlook: Last year's division winners are in a good position to repeat as AL East champs as they pretty much stood pat this offseason. They're even adding talent, in the form of Matt Wieters about a month into the year to replace the offensively bad (in that they were so bad at offense that I was offended) combination of Caleb Joseph, Steve Clevenger, and Nick Hundley. Manny Machado will be back to start the year after missing the final month and a half with a knee injury. Chris Davis and Jonathan Schoop were so bad for large chunks of the year that there should be natural upgrades at first and second base as well. There are concerns that their pitching staff will take a step back. Even so, their roster is still above average as a whole. This is a really good team who decided to run it back in 2015, and they should be successful.
Worst Case Scenario: 84 wins. This is contingent on not only the Os regressing themselves, but the BoSox and Blue Jays taking steps forward, making this division tough to navigate.
Best Case Scenario: 100 wins. After 96 wins last season, Wieters is a massive upgrade behind the plate, Chris Davis is at least consistently average, and the rest of the team repeats their performance from last year.
Player to Watch: Kevin Gausman. Gausman was one of the top prospects in baseball prior to last season, and after pitching well to start the year in AAA, he was called up and provided good #2 starter production when he wasn't constantly bouncing between Norfolk and Baltimore. He's a flamethrower, averaging 94.8 MPH on his fastball, on which he is heavily dependent. As he starts to work in his off-speed stuff a bit more, he should be one of the best pitchers in baseball. He won't start the year in the rotation, but it won't be long before he gets the nod.
2. Boston Red Sox
P Buchholz, Porcello, Masterson, Miley, Wright
Team Outlook: The Red Sox were one of the more active teams this winter. In the moment, I was very impressed by the moves, but not so much anymore. Signing Hanley Ramirez and Pablo Sandoval made the offense better, but I have to question Ben Cherington when I see Brock Holt, Rusney Castillo, and Allen Craig sitting on the bench when the starting rotation needs help. Cherington was like a teenage girl let loose in a shopping mall with a credit card for which she'll never see the bill. And then came the realization that 3-5 in his rotation is Joe Kelly (when he returns), Wade Miley, and Justin Masterson, the performance of the latter being one of the more unpredictable things life has to offer.
Worst Case Scenario: 73 wins. The lack of a solid number one, or number two starter comes back to bite them as no one in their rotation can actually be trusted.
Best Case Scenario: 93 wins. Henry Owens comes up and provides a huge boost to their rotation, and their offense is simply so good that it doesn't matter who's on the mound.
Player to Watch: Mookie Betts. Boston's starting center fielder has a massive hype train behind him, for good reason. He's been a highly rated prospect for a couple of years now, and he backed it up with a very good .291/.368/.444 line. That's a great line for any player to put up, but for someone's first 52 games in the league that's wildly impressive. It means the future is only looking up for Mook. I'm just glad the name Mookie is going to be relevant in the MLB again. I mean, you remember the last Mookie. I'm sure Red Sox fans do.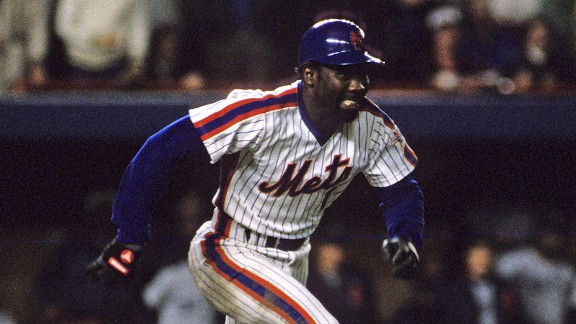 Photo courtesy of ESPN
Photo courtesy of NY Daily News
Okay I'm done. Mooooooooooooook is the new Youuuuuuuuuuuuuuuk at Fenway, and I'm happy that Sawx fans once again have a really good player with such a beautiful name.
3. Toronto Blue Jays
P Hutchison, Dickey, Norris, Buehrle, Sanchez
Team Outlook: If you didn't know by Josh Donaldson trade and the Russell Martin signing, the Jays are going for it this season. An offense which was fifth in the MLB in runs scored last year replaced Brett Lawrie with Donaldson, Dioner Navarro with Martin, and the black hole of Kawasaki and Goins at second (possibly the worst position group in the majors) with Devon Travis, who at least has some potential. The rotation will miss Stroman, but I like Hutchison to have a breakout year, and there are still five worthy starters. The bullpen is a huge question mark, but the rest of the team will be good enough.
Worst Case Scenario: 79 wins. Hutchison doesn't improve, Norris and Sanchez don't translate well to the rotation in their rookie years, and the pen is a dumpster fire. Yet, the offense keeps them hovering around .500.
Best Case Scenario: 94 wins. The offense gets even better, and the young guys in the rotation are just as good as advertised, ameliorating the problems in the bullpen.
Player to Watch: Dalton Pompey. After failing to advance past Single-A in each of his first four professional seasons, Pompey broke out and rose through the ranks quickly. After 70 games in high-A, he maintained similar numbers in 31 AA games, and 12 AAA games before the Jays called up the 22 year old from Mississauga. He hit .317/.392/.469, so it's easy to see why Toronto is so giddy about him. On top of being a very good hitter, he stole 43 bases in 113 games across all three minor league levels.

Player to Watch Part Deux: Aaron Sanchez. Obviously, he was coming out of the pen, so these numbers should dip, but Sanchez threw 88% fastballs last season, and averaged 97.1 MPH on each. Between his four-seamer and his sinker, he knows how to fool batters, allowing only four earned runs in 33 innings. Now he's making his move to the rotation, and it will be fun to watch.
4. Tampa Bay Rays
P Archer, Odorizzi, Karns, ???, ???
Oh you think I'm kidding with those question marks?
Photo courtesy of MLB.com
Team Outlook: They'll start the year with a banged up rotation, but Alex Cobb, Drew Smyly, and Alex Colome should all be available again early in the year, while Matt Moore is scheduled to return in midseason. When this team is healthy, they will be a lot feistier than people give them credit for. A rotation of Cobb, Archer, Smyly, Odorizzi, Moore, and Colome is one of the better ones in the MLB, and there are no obvious holes on offense other than Logan Forsythe. Don't sleep on the Devil Rays, especially when they're at full strength in the second half.
Worst Case Scenario: 74 wins. Things start off poorly, trades are made, and the pitchers struggle
Best Case Scenario: 86 wins. The pitching staff is dominant when everybody is available, and the offense is okay even with the lack of power.
Player to Watch: Steven Souza. He was a failure prior to a couple of 2012. The Nationals drafted him in the third round of the 2007 draft, and didn't get to Double-A until 2013. He got it together, started mashing, and hit .345/.427/.577 in AAA last year. He'll be 26 in April, so he's older than a normal prospect, but this man can hit.
5. New York Yankees
P Tanaka, Pineda, Sabathia, Eovaldi, Warren
Team Outlook: This team is old and injury-prone. I like to assume health in all cases, but it's impossible to do so with the Yanks. Every one of their regulars is either bad (see: middle infield) or going to get hurt and there's no way around that. If this roster managed to stay healthy all year, maybe they'd contend. But it's not going to happen.
Worst Case Scenario: 77 wins. Now Yankee fans have to think seriously about a rebuild, rather than just living in purgatory for the next eon.
Best Case Scenario: 88 wins. Everybody stays healthy, Gregorius and Drew figure out a way to not suck, and the Yanks are a surprise contender.
Player to Watch: Nathan Eovaldi. There isn't really anyone on this team that fits the bill of a traditional, up and coming player to watch, because I'm not holding my breath on Didi Gregorius. So, I'll take this section as an opportunity to express my love for flamethrower Nathan Eovaldi. He mixes in his really good slider to complement a fastball that averages 95.7 MPH. The results leave something to be desired, as he's pitched to a 4.07 ERA and 1.378 WHIP in his career, but he's still only 25 years old, and those numbers are good enough for a back end starter.
Next up, the best division in baseball, the AL Central.
Photo courtesy of CBS Detroit
1. Detroit Tigers
RF J.D. Martinez
DH Victor Martinez
P Price, Sanchez, Simon, Greene, ??? (until Verlander returns)
Team Outlook: Even though the race was a lot closer than usual, the Tigers won the AL Central for the fourth straight season, and are in good position to do it once again, especially since they'll actually have a shortstop this season with the return of Jose Iglesias.

Worst Case Scenario: 83 wins. Verlander is simply done, Greene doesn't do much of anything, Gose is totally worthless offensively, and the Martini regress.
Best Case Scenario: 101 wins. This is the best rotation in the MLB, Iglesias is a massive upgrade from last season's shortstop situation, and Cespedes gets on base more.
Player to Watch: Jose Iglesias. I almost just typed his name as Julio. This defensive wizard will be back after missing all of last season due to injury. Last time we saw him, he was hitting .300 and consistently making highlight plays with his glove. He was certainly missed last year.
2. Cleveland Indians
P Kluber, Carrasco, Bauer, McAllister, House
Team Outlook: After finishing with 85 wins last year, the Indians should be even better this time around after getting Brandon Moss, and a not as worthless Nick Swisher. That, along with slight improvements from the pitching staff should give this team the final push it needs to return to the playoffs.
Worst Case Scenario: 83 wins. Kluber, House, and Carrasco each regress enough that it takes a couple of wins off.
Best Case Scenario: 98 wins. There is the potential here for a surprise powerhouse. The rotation plows through the competition, and the offense gets better with the addition of Moss, and top prospect Francisco Lindor later in the year.
Player to Watch:

T.J. House. Glenn Anthony "T.J." House (yes, I'm as confused as you are) debuted last year and pitched to the tune of a 3.35 ERA in 18 starts. With all the attention paid to Cy Young Award winner Corey Kluber, it was easy to miss House. He's certainly a different mold of pitcher, being that he's a 25 year old who averages 90.7 MPH on his fastballs, but he's able to make up for that with very good off-speed stuff.
3. Kansas City Royals
P Ventura, Duffy, Volquez, Vargas, Guthrie
Team Outlook: Last year's AL pennant winners are set to drop off in 2015, or so we think. As of now, I'm a Royals agnostic. I actually picked them to win the AL Central last year, so I believe in their talent, but I'm not exactly sure how they did it. Statistically, they went against conventions on their way to the World Series. They weren't getting on base or hitting for power as much as a team with the results they experienced normally would. They won games with making contact, speed, and a killer bullpen. Either it was a fluke, or the Royals have created a new paradigm. I'm going with the former, but I'm certainly not ruling out the possibility that Kansas City is just smarter than everyone else. To go along with assuming that last year was a case of the Royals overachieving, I think there will be natural progression, where their talent bumps up that team OPS, and the Royals are only a little bit worse than they were last season.


Worst Case Scenario: 77 wins. The regression alarm was actually warranted, and the Royals drop off significantly. Also, the simple presence of Edinson Volquez as he drops back to a 5 ERA pitcher makes everything worse.
Best Case Scenario: 91 wins. Me and every other sabermetric freak is wrong and we have to re-evaluate the game.
Player to Watch: Danny Duffy. Much like everything else involving the 2014 Royals, Duffy's season defied logic, as evidenced by the fact that his FIP is a full 1.3 runs above his actual ERA. Now, some of that is bound to come back to Earth, but some of that is also attributable to the killer defense that Kansas City plays. This isn't so much of a "Duffy is going to be great again" prediction as it is a "monitor this situation" call. Real or regression?
4. Chicago White Sox
P Sale, Samardzija, Quintana, Danks, Noesi
Team Outlook: The White Sox have the best top three starters in baseball, followed by two total liabilities in John Danks and Hector Noesi, as well as an offense that I don't think is great, but it very well could be. After a few really good moves this offseason, the South Side Sox may not be the best team in their city.
Worst Case Scenario: 76 wins. The league average offense doesn't get that much better with the additions of Melky Cabrera and Adam LaRoche, and the back end of the rotation is a major problem.
Best Case Scenario: 88 wins. The Sale-Shark combination is way too good, and a few upgrades on offense takes the unit from okay to pretty good.
Player to Watch: Carlos Rodon. He was drafted last June, and the White Sox aren't afraid to put him on the fast track to the majors. He tends to pitch in the low-90s, but the main attraction here is his slider, which has some serious break to it. Selfishly, I don't want the White Sox to call him up anytime soon, because that means he'll be in Charlotte late in the season, about half an hour from where I'm attending school.
He also shares my birthday (although he's five years older). What's not to love?
P Hughes, Nolasco, Gibson, Milone, Pelfrey
Team Outlook: Great news: the Twins are not going to totally suck this year. They won't make the playoffs, especially in this stacked division, but when I looked at their roster I didn't puke as I did last year. The offense looks pretty good, and this time around, the pitching staff isn't being led off by a comically overpaid Ricky Nolasco (he's only their fourth starter this year).
Worst Case Scenario: 70 wins. Despite what I said above, they're still just not good enough to improve upon their win total from last season because they have to contend with four strong teams in their division.
Best Case Scenario: 80 wins. One of the top four in this division falls apart and the Twins hover around .500.
Player to Watch: Kennys Vargas. I'm staying away from Miguel Sano and Byron Buxton here because it's unclear when each of these guys will get the callup to the big league team. I fell into this trap last year, when I got too excited about a guy like Junior Lake, who put up a decent stat line in not too many games, but I'm doing it again. Vargas was doing well in AA, went straight to the big leagues, and hit .274/.316/.456 in 53 games. He has the starting DH job going into this season, so it should be interesting to see how he follows it up.
And now, to close out the AL, the West.
Photo courtesy of Yahoo Sports
1. Seattle Mariners
P Hernandez, Iwakuma, Paxton, Happ, Walker
Team Outlook: Last season I thought that the Mariners would be terrible, but they proved me wrong, racking up 87 wins and finishing one game behind the Wild Card in a division that featured two playoffs teams. They go into this year with All Stars at three spots in their lineup, good players almost everywhere else, and a rotation that is inexperienced outside of the top two, yet is one of the best in baseball, allowing this pitching staff to finish second in the MLB in ERA last season. Though, I still have to keep asking myself why J.A. Happ is there.
Worst Case Scenario: 83 wins. Paxton and Walker struggle in each of their first full MLB seasons, and Kyle Seager's 2014 season was a fluke.
Best Case Scenario: 96 wins. A full season with Austin Jackson in town, the additions of Seth Smith and Nelson Cruz, and a great rotation propel them to an AL West crown.
Player to Watch: Taijuan Walker. Walker has been one of the top prospects in baseball for the majority of his professional career, and for good reason. He has a mid-90s fastball to go along with a pretty good cutter, a nice changeup, and a super slow curve that settles in around the low-70s. All of the makings of an ace.
2. Los Angeles Angels
P Weaver, Wilson, Shoemaker, Santiago, Richards
Team Outlook: The Angels are going to be worse than they were last year. This is a simple fact. They overachieved on their way to putting up the best record in baseball. But, as they get a bit worse, they should still be in position to grab a Wild Card spot behind the Mariners. Just remember, no matter what, Trouts gon' Trout.
Worst Case Scenario: 85 wins. Performances from Garrett Richards and Matt Shoemaker aren't sustained, and the infield is bad other than Pujols.
Best Case Scenario: 96 wins. There's no chance they reach the 98 win mark set by last year's team, but Giavotella isn't a disaster at second, Cron and Freese are better, and Trout is Trout.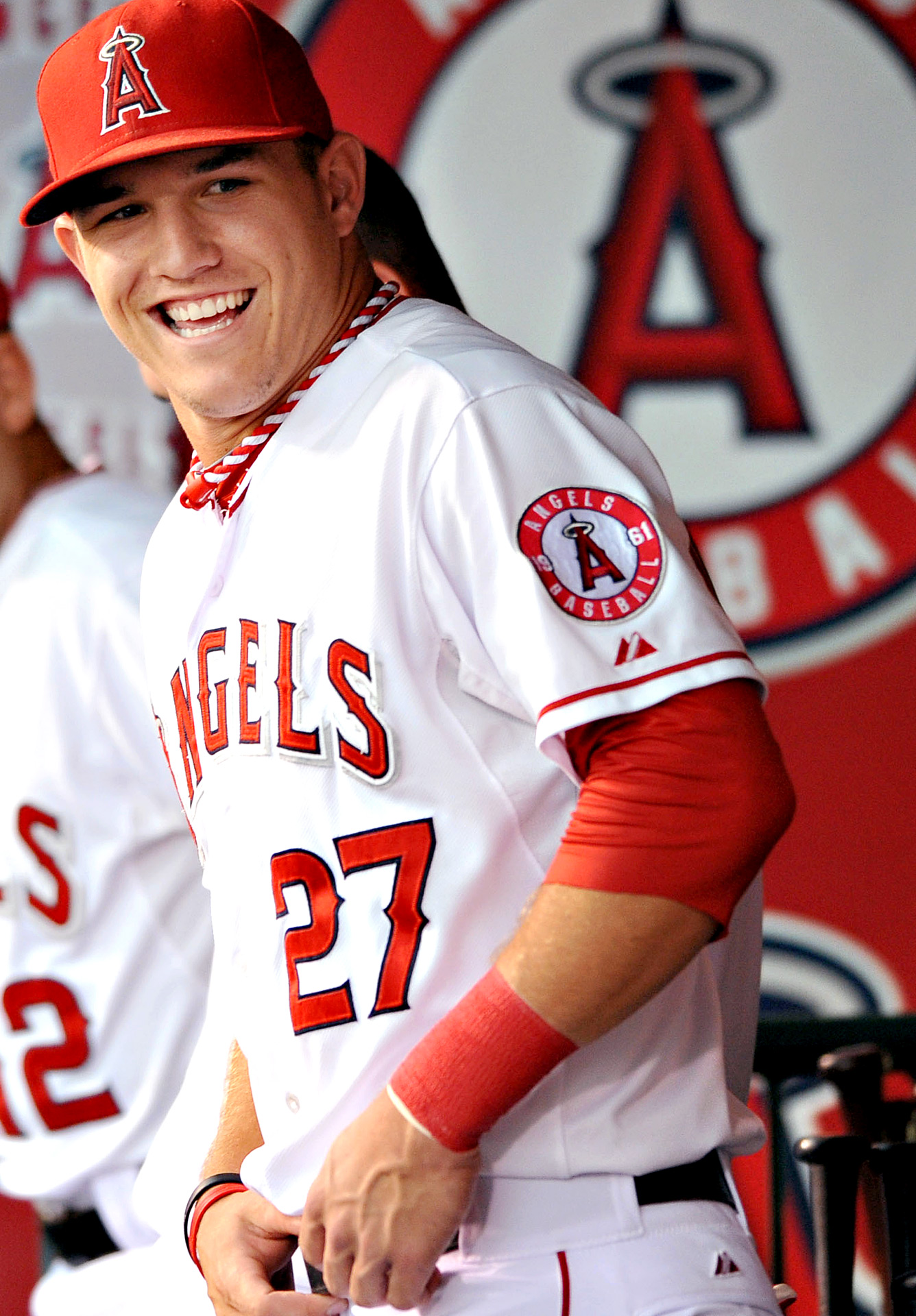 Photo courtesy of ESPN
Look.
At.
That.
Damn.
Smile.
Player to Watch: C.J. Cron. While popular opinion states that Andrew Heaney is the no brainer player to watcher in Anaheim, Cron is quite interesting. He started the year hitting very well in AAA, posting .316/.385/.511 before getting the call up and continuing to show off his power with the big club. His OBP was only .289 in about half a season, so that needs work, but the power was on display at times. I expect him to follow up his decent rookie campaign with an even better one as the everyday DH.
P Gray, Kazmir, Hahn, Graveman, Pomeranz
Team Outlook: No one knows. Billy Beane went on a rampage this winter and simply couldn't stop making trades. I'm going to assume that ownership wanted him to cut costs, because the return he got generally won't have a major impact at the major league level anytime soon for a team who was the best team in baseball for most of the season. There's a plan here, because Beane is a very smart man. I don't know what the plan is, but I do know that Ike Davis is starting for a team that just made the playoffs.
Worst Case Scenario: 78 wins. Take a look at that lineup.
Best Case Scenario: 91 wins. On the back of very good pitching, and a moneyballin' offense, the As make their way back into the postseason.
Player to Watch: Jesse Hahn. This is the first guy who absolutely stifled the Mets while pitching for the Padres last season who I'm mentioning in this section. Stay tuned. I was at this game by the way. Anyway, Hahn has a lot more to be proud of than one game against the Mets. He came straight from AA where he was lights out, and put together a 3.07 ERA and 1.207 WHIP in 12 starts with the Padres. Expect a good follow up season from the 25 year old.
4. Texas Rangers
P Gallardo, Holland, Lewis, Detwiler, Martinez
Team Outlook: Losing Yu Darvish for the year due to Tommy John surgery is a huge bummer, but it just makes an average team a little worse.
Worst Case Scenario: 67 wins. Just as bad as last season, because the injury bug won't go away. Compound that with question marks in the bullpen, rotation, corner outfield, and catcher, and we've got another terrible season on our hands.
Best Case Scenario: 81 wins. Everyone stays healthy, but they simply aren't good enough across the board to crack .500.
Player to Watch: Ryan Rua. Prior to writing this article, I had no idea who this guy was, but he's the starting left fielder for the Rangers now. He actually played in 28 games to end last season, hitting .295/.321/.419 which are great numbers for the first month of someone's career, but we have to look at why he was called up in the first place. He hit .306/.378/.488 in 129 games across AA and AAA before earning the callup to the big club. He has the opportunity, and I think he should do just fine with it.
5. Houston Astros
P Keuchel, Feldman, Wojciechowski McHugh, Hernandez
Team Outlook: The Stros are slowly digging themselves out of the ditch they've found themselves in for the past few years. This season shouldn't be any different from the last few based on results alone, because this team isn't making the playoffs, but I expect them to play a lot better on their way there.
Worst Case Scenario: 72 wins. They should be better than they were last year, even by a little bit. Their entire roster is so young, that natural progression should push them forward.
Best Case Scenario: 82 wins. Look at this roster. It's not all that bad. There are no obvious holes in their lineup, and while the last two starters are going to be problematic, this team can just barely crack that .500 mark.
Player to Watch: George Springer. Thanks to a low average, and a ton of strikeouts, it felt like Springer's rookie year was a lot worse than it actually was, but he still exhibited his raw power with a .468 slugging percentage. In his first full season, expect his numbers to come closer to the .303/.411/.600 line he put up in the minors in 2013.
1. Washington Nationals
P Scherzer, Zimmermann, Strasburg, Gonzalez, Fister
Team Outlook: The Nats won the NL East by 17 games last season, and things aren't going to be significantly different this year. The Mets and Marlins should both be better, and competing for Wild Card spots, but the Nationals are clearly the class of this division. When everyone is healthy, the offense should be the same or better than last year, and a pitching which already featured five top-of- the-rotation starters added one of the best pitchers in baseball in Max Scherzer this winter in a textbook example of the rich getting richer. The rest of the NL doesn't have allowed the Scherzer signing. Injuries are the only thing that can stop this team, but as I previously stated, I'm assuming health with these predictions.
Worst Case Scenario: 86 wins. Absolute worst case scenario is that this team misses the playoffs by a few games, and even may be too pessimistic.
Best Case Scenario: 105 wins. This is a team without any holes, so this number isn't ridiculous. The last team to pull it off was the 2004 Cards, so it's been a while, but it's within the realm of possibility.
Player to Watch: Michael Taylor. Another player to watch who had some upsetting success against the Mets last year is Taylor, who singled off Rafael Montero in his first major league at bat, then proceeded to homer later in the game off Carlos Torres. The rest of the major league season didn't go so well for him, but the attraction is his coming out party in AA, when he raked his way to .313/.396/.539 in 98 games before the Nats had seen enough, as he only played four games in AAA before making it up to the big club. For now, he's only an injury replacement, as both Denard Span and Jayson Werth will start the year injured, but the Nationals have two outfielders in Werth and Bryce Harper who can't seem to stay healthy, so expect to see a lot of Taylor.
2. New York Mets
P Colon, deGrom, Harvey, Niese, Gee
Team Outlook: The rebuild may finally come to a head this season, as my Mets finally look like a team ready to contend. The team is counting on the return of Matt Harvey, the arrival of Michael Cuddyer, the emergence of Travis d'Arnaud and possibly Wilmer Flores, the sustained success of Lucas Duda, and rebounds from David Wright and Curtis Granderson to become a playoff team. And I don't think it's at all crazy, or overly homeristic of me to expect things to work out in their favor in 2015. And, if I am simply way too optimistic because I've never lived more then 20 minutes away from Shea Stadium or Citi Field, deal with it and let me have this season of hope.
Worst Case Scenario: 77 wins. Duda's 2014 season was a fluke, Harvey can't readjust properly, Wright is done, Cuddyer has no impact, and the Marlins and Nats are too good. Yet, they only lose two more games than last year.
Best Case Scenario: 88 wins. All of the stuff I mentioned above comes true, and the pitching staff is one of the best in the NL, whether or not it includes a debuting Noah Syndergaard.
Player to Watch: Travis d'Arnaud. 2014 was the tale of two seasons for Td'A. He started off the season as one of the worst players in the MLB, which is of course why I bought his shirsey at a Mets game in April. His defense was poor, and he hit .180/.271/.273 through June 6. Finally, the Mets caved, and sent him down to Las Vegas for a couple of weeks. He returned a new man, hitting .272/.319/.486 from June 24 through the end of the year, and this is with a BAbip well below league average. His second half is more indicative of his talent than his first half. Expect him to put it together for a full season.
3. Miami Marlins
P Alvarez, Latos, Koehler, Haren, Cosart
Team Outlook: It's almost time. It's not time just yet, but it's almost time. The Marlins are on the verge of becoming a contender, boasting the most fun OF in the league, but there are some concerns. The entire infield could be problematic, and relying on Dan Haren in 2015 is a risky proposition until Jose Fernandez returns. They could definitely make a run towards the postseason, but I'm not holding my breath. At the very least, however, they'll be good.
Worst Case Scenario: 79 wins. Dee Gordon's first half last year was a total fluke, Hechavarria continues to be a dumpster fire at the plate, Henderson Alvarez can't keep it up, and Stanton just isn't quite the MVP candidate he was last year.
Best Case Scenario: 92 wins. They have more upside than the Mets. This optimistic version of their season is one where their middle infield is fine, their outfield is as great as advertised, Latos stays healthy, Haren turns back the clock, and Miami finds themselves in the playoffs.
Player to Watch: Marcell Ozuna. As I said, this is one of the most fun outfields in the league, and it may very well be the best. Everyone knows about Giancarlo Stanton, so I won't waste words on him. Even though I technically just did exactly that. Christian Yelich receives a fair share of attention as someone who will be another offensive cornerstone for Miami, but lost in the shuffle is Marcell Ozuna. Not only has he been a pretty good hitter, with .268/.313/.433 over his first two seasons, he has a massive amount of raw power, and plays pretty good defense. This year, I expect his stats to jump, and for him to get the recognition he deserves.
P Teheran, Wood, Miller, Cahill, Stults,
Team Outlook: The Braves took a step back last season, and based on their moves this offseason, they're not looking to make the playoffs again just yet. They already had one of the most offenses in baseball, before getting rid of three of their best hitters this winter. This mini-rebuild shouldn't take long at all, but at least this year, they'll be one of the lesser teams in the division, especially since the two teams above are going to be better in 2015.
Worst Case Scenario: 72 wins. Both the Mets and the Marlins are (at least) hovering around the Wild Card race, the offense only has one very good player in Freddie Freeman, and the back end of the rotation is an issue.
Best Case Scenario: 84 wins. Overall this roster could be pretty good. This optimistic prediction has everything working out in their favor, but they still miss the playoffs.
Player to Watch: Jace Peterson. We'll get to the more famous one later, but there's another young prospect named J Pe(d)terson in the NL who is kind of exciting. This guy's name is Jace, and he's a second baseman who profiles to be a pretty good on base, decent power guy. If he doesn't impress initially, I'm not sure how long he'll be given to run with the job, since Jose Peraza is not too far behind him in Atlanta's system.
5. Philadelphia Phillies
P Hamels, Harang, Buchanan, Williams, We'll See
Team Outlook: This is usually the look of a rebuilding team, but it's hard to rebuild when you employ the worst General Manager in all of baseball. Once again, all logic points to Ruben Amaro, Jr. wheeling and dealing throughout the year to get rid of Hamels, Utley, Ruiz, Revere, Papelbon, and even Howard if some crazy team enjoys strikeout machines who look like a Bengay advertisement every time he runs. But once again, none of that will happen, the Phillies will still be terrible, and against all odds, Amaro will retain his job going into next season.
Moment of silence for the Grady Sizemore comeback tour.
You tried, buddy.
Worst Case Scenario: 75 wins. Rube commits to maintaining a mediocre at best roster, then returns next season because he clearly cast some sort of spell over ownership.
Best Case Scenario:
62 wins. The necessary moves are made in July to totally strip an already weak roster of the rest of it's talent, and this team is a total punching bag.
And yes, I realize that I had the lower win total as the best case, for good reason.
Player to Watch: Odubel Herrera. Because the team is terrible, Herrera wins it by default. He's a mildly exciting prospect who Ruben Amaro stole in the Rule Five Draft, who hit .321/.373/.402 in AA last year, and is now the starting centerfielder for the Phils. The kid has some potential. Let's see if this trial by fire will work.
P Wainwright, Lynn, Lackey, Wacha, Martinez
Team Outlook: Ho hum.
Worst Case Scenario: 84 wins. The last time the Cards were under .500 was 2007. Before that? 1999. Great management for a decade and a half has allowed them to put together very good teams year after year.
Best Case Scenario: All of the wins. Because they are the Cardinals, damn it.
Player to Watch: Carlos Martinez. Jaime Garcia is currently hurt (shock and awe time), so Martinez is finally getting a chance to be in the rotation. He's only started 8 out of 78 games in his major league career, because the Cards struggle to find room for him. He was named Baseball America's number 31 top prospect prior to last year because he's had a 2.61 ERA and 1.139 WHIP in his five seasons across all levels on the minors. The fifth starter job is his for now, and I don't see him disappointing.
2. Pittsburgh Pirates
P Liriano, Cole, Burnett, Locke, Worley
Team Outlook: I'm skeptical. I have to be, because we're talking about a team that will rely on Francisco Liriano to suddenly exhibit consistency for the first time in his career, A.J. Burnett to not suck, and Vance Worley to repeat his Vanimal level performance from last year. The catcher is someone who's never played more than 93 games in a season, and are we really going to expect Josh Harrison to repeat his performance from last year, which featured a sudden .100 point spike in his BAbip. That said, this team should be pretty good, just not one that will get anything more than a Wild Card berth again.
Worst Case Scenario: 80 wins. Liriano is a joke once again, and the only trustworthy pitcher is Gerrit Cole. But the offense is still good enough that a .500 season is within the cards.
Best Case Scenario: 90 wins. Harrison is real, and Polanco improves a great deal. #PiratePoetry.
Player to Watch: Gregory Polanco. Prior to coming up and having a mediocre rookie year, Polanco was hitting .328/.390/.504 in AAA. His career started off really poorly, but he's still oozing with potential. It is most decidedly not panic time.
3. Milwaukee Brewers
P Lohse, Garza, Peralta, Nelson, Fiers
Team Outlook:
The Brew Crew started last year well, until the run differential Gods smited them down with a disappointing end to the season. Replacing 2014 Mark Reynolds with Adam Lind is a massive upgrade, and they're going to rely on Jean Segura and Jimmy Nelson to not suck, as well as rotation that lacks an ace. But their offense is so good that the uncertainty in their pitching staff won't be too big of an issue.
Worst Case Scenario: 76 wins. Run prevention is their Achilles heel, as the pithcing staff and not great defense at a few positions costs them.
Best Case Scenario: 89 wins. It all comes together, Lind finds a way to get more than 2 hits off lefties all year, and Kyle Lohse keeps doing Kyle Lohse things, and overachieves on his way to being this team's ace.
Player to Watch: Jimmy Nelson. You know how I said it's not panic time for Polanco yet? Well, the same goes for Nelson. Sure, he outright sucked last season, but he also had a 1.46 ERA and a sub-1 WHIP in half a season in Triple-A last year. So, he's clearly not devoid of talent. he just started off poorly. He should turn it around this year.
4. Chicago Cubs
P Lester, Arrieta, Hammel, Wood, Hendricks
Team Outlook: As is the common theme in the NL, things are looking up for Chicago, but they aren't quite there yet. There are some important questions facing the team: can Javier Baez not do the thing where he strikes out in 44.6% of his at bats? Can Arrieta, Hendricks, and Wada repeat their performances from last season? Will Addison Russell make an impact this year? Why the hell is Chris Coghlan a starter? Will 9 games of Mike Olt over Kris Bryant at third derail the locker room because none of the players think that management has any sort of commitment to their success, and therefore put a black cloud over the entire season and cursing the Cubs for the rest of eternity, as well as show that the MLB contract structure has reached its crisis point?
In short: maybe; somewhat; yes but late; Lord knows, though he was good last season; no, you fool.
Worst Case Scenario: 75 wins.

The young roster simply isn't good enough just yet, as Bryant, Soler, Alcantara, as well as Baez and Russell when they come up, can't carry the load on offense. As for the pitchers, it becomes clear that Chicago benefited from some flukey performances in 2014.
Best Case Scenario: 87 wins. The Cubs Renaissance leads to a playoff spot a year earlier than expected.
Player to Watch: Kris Bryant. There are many options here with the Cubs, but Bryant is the star. He's going to be an MVP one day. Not only does he have incredible power, he gets on base at a very high clip as well. This season will just be the beginning.
P Cueto, Leake, DeSclafani, Marquis, Iglesias
Team Outlook: Injuries derailed their season in a big way last year, and while things should be better, they won't be much better than last season. The interesting thing to look for is it GM Walt Jocketty sticks with this average roster, and tries to augment it going towards next year, or blows it all up and starts an all out rebuild. It can go either way, so this is a situation to monitor.
Worst Case Scenario: 72 wins. The offense is a disaster if Votto, Bruce, and Byrd are finished, DeSclafani and Iglesias can't both be relied upon in big roles, and Jason Marquis

—who was last seen being terrible in AAA for the Phillies last year

—is just as bad as expected.
Best Case Scenario: 81 wins. Their big hitters are so good that it balances out the zeroes in their lineup (see: middle infield),
Player to Watch: Raisel Iglesias. Shoutout to Anthony DeSclafani here, but I'm going with a Cuban pitcher who Cincinnati signed last summer. He features a low-to-mid-90s fastball, as well as a slow, sweeping curve. Oddly enough, he only started five games over three seasons in Cuba, but the Reds are ready to throw him into the rotation to begin the year.
Superhuman to Watch: I don't like featuring relief pitchers, because they're in essence just guys who couldn't cut it as a starter, so therefore play a much less important position. But, I'm breaking that trend today, here and now, to highlight to man, the myth, the legend, the Jumbo.
Photo courtesy of Sports on Earth
Jose Diaz is a 6'4, 315 pound flamethrowing 31 year old coming off of his rookie season, and is appropriately nicknamed Jumbo. I had no idea he even existed until last night, but I must thank my friend Phil for putting me onto this fine specimen of humanity. He's essentially a two pitch pitcher, using his heater which averages 97.1 MPH, and his hard slider to his advantage. I wouldn't be talking about him if he wasn't good, which is why it's time to mention that he struck out 37 batters in his 34.1 innings pitched in his rookie season. I'm simply honored to be from the same species as this man. This story is amazing, and he might just be my new favorite player in the league. Trout, you're on notice.
But seriously, this Iglesias dude should be good.

And now, for the final division in my preview.
Photo courtesy of NY Post
1. Los Angeles Dodgers
P Kershaw, Greinke, McCarthy, Anderson, ???
Team Outlook: After winning the division last year, the Dodgers upgraded at second, catcher, and center, as well as improved the back end of their rotation. There isn't much to say, because they are clearly still the class of the NL West.
Worst Case Scenario: 88 wins. Hyun-Jin Ryu's injury to start the year is hard to recover from, the Giants and Padres start off better than expected, and Joc Pederson doesn't get off to a good start. And the Dodgers still make the playoffs.
Best Case Scenario: 102 wins. This is a great team that got even better. What's not to love.
Player to Watch: Joc Pederson. One of the top prospects in the game, and the hype is well-earned. He hit .303/.435/.582 to go along with 30 steals 121 AAA games last year. Oh, and he's 22. Need I say more?
2. San Francisco Giants
P Bumgarner, Cain, Hudson, Peavy, Lincecum
Team Outlook: I get it, it's 2015. 2015 is an odd numbered year. This means, it should be time for the defending champion Giants to be irrelevant for a year before making their way to the World Series the next year. Still, this team should be arguably better than the one who won 88 games last season. Brandon Belt, Angel Pagan, and Matt Cain, will be healthy, while Jake Peavy and Joe Panik will be around for a full season. The losses of Mike Morse and Pablo Sandoval are issues by themselves, but not when GM Brian Sabean replaced them with Nori Aoki and Casey McGeehee coming off a good season with the Marlins.
Worst Case Scenario: 79 wins. The odd year blues strike again.
Best Case Scenario: 94 wins. But, the more likely outcome is that the Giants show for a full season why they are the defending champs.
Player to Watch: Joe Panik. The kid out of St. John's University debuted in the MLB to pretty nice results. Being a league average player, and therefore a relatively above average second baseman, in your rookie year isn't an easy task. He showed more power when he was in the minors, so maybe that will appear in this upcoming season.
3. San Diego Padres
P Shields, Ross, Cashner, Kennedy, Morrow
Team Outlook: Things are looking up, but hold your horses. The NL is filled with up and coming teams like the Cubs, Marlins, and Mets. The Padres are right there with them, and, along with the usual suspects, should be fighting with each other for a Wild Card spot. But, there is no guarantee that the Padres are going to make the playoffs. They'll be okay, but with a shaky infield that includes whatever the hell Alexi Amarista is supposed to be, don't expect too much. By the way, Amarista and Melvin Upton on the same team should be illegal. They may be the worst pair of teammates in the league.
Worst Case Scenario: 80 wins. Having two everyday players with the offensive talent of Bartolo Colon proves to be a major problem, and it's hard to trust the starting pitching after Shields, Ross, and Cashner.
Best Case Scenario: 90 wins. Jedd Gyorko plays very well, leaving only two holes in the offense, both on the left side of the infield, everyone in the rotation pans out (I'm looking at you, Ian Kennedy) while Tyson Ross and Andrew Cashner are able to repeat their recent performances.
Player to Watch: Odrisamer Despaigne. Here's the second Padres pitcher who fooled my Mets last year. And again, there's a reason to be excited about him outside of taking advantage of my team's ineptitude. In half a season, he put up a 3.36 ERA. He's not a power pitcher at all, with a fastball that barely averages 90 MPH, but he mixes that in with a cutter, as well as a change and a very slow curve.
4. Colorado Rockies
P Kendrick, Lyles, Matzek, Butler, ???
Team Outlook: Very good offense, terrible pitching staff: the Coors Field experience.
Worst Case Scenario: 73 wins. The pitching is historically bad, even for Coors Field...
Best Case Scenario: 78 wins ...But the offense is really good.
Player to Watch: Corey Dickerson. If he weren't playing at Coors Field, we really wouldn't think much of Dickerson, since his OPS drops .363 on the road from his home mark, but he's still a Rockie, so expect Dickerson to mash yet again. He hit .312/.364/.567 overall, and while he wasn't a bad hitter on the road, he wasn't the MVP candidate he appears to be when at Coors. That said, those are still great overall numbers.
5. Arizona Diamondbacks
P Collmenter, De La Rosa, Hellickson, Anderson, Bradley
Team Outlook: The catcher is a human being named Tuffy Gosewich. That's all you need to know about this terrible team. Okay, that's a little harsh, because the offense can be okay. It was pretty bad last season, with the DBacks finishing 24th in the MLB in runs scored, but that was with only a half season from Trumbo and Pollock, and no Yasmany Tomas. That's not my concern. My issue is that the rotation is led off by a guy in Collmenter who is a #2 starter at best, and then a bunch of capital question marks. Yes, I have to create punctuation to describe their rotation.
Worst Case Scenario: 64 wins. Pitching is obviously very important, and the DBacks can't really do that well, so they don't win many games. Simple logic, isn't it?
Best Case Scenario: 79 wins. The rotation isn't as much is a dumpster fire as I expected.
Player to Watch: Archie Bradley. I'm running this prediction back from last year, because Bradley made the rotation out of Spring Training, will be debuting this week, and because Yasmany Tomas will be starting his career in this country in AAA. In 2013, Bradley posted a 1.97 ERA in AA, and was derailed by an injury last year. Clearly, Chip Hale saw enough from Bradley in the spring to ignore his disappointing stats from last year, and add this powerful righty to his rotation.
Whew. We're done. Now onto the playoffs.
Detroit Tigers

Seattle Mariners

Baltimore Orioles

Cleveland Indians

Kansas City Royals
Los Angeles Dodgers

Washington Nationals

St. Louis Cardinals

Pittsburgh Pirates

Milwaukee Brewers
Tigers over Indians in 5.
Mariners over Orioles in 4.
Dodgers over Brewers in 3.
Nationals over Cardinals in 5.
Mariners over Tigers in 7.
Nationals over Dodgers in 6.
Washington Nationals over Seattle Mariners in 7.
World Series MVP: Anthony Rendon
AL MVP: Michael Brantley


NL MVP: Carlos Gomez


AL Cy Young: Felix Hernandez


NL Cy Young: Jordan Zimmermann


AL Rookie of the Year: Steven Souza


NL Rookie of the Year: Joc Pederson


Comeback Player of the Year: Matthew Edward Harvey

B.J. Upton Award: This is an award that I'm going to start giving out to a player (most likely a position player) who is so bad it actually causes me pain. Named after the old persona of the still terrible Padres outfielder. This year, the winner is his teammate, Alexi Amarista, who was sent to us by Satan so we'd have to deal with his OPS that hovers around .600. And his team may make the playoffs in spite of him.
Bold and Unnecessary Predictions That I'm Making Anyway
Marcell Ozuna will hit .285/.340/.490 this season. Much like I did with Matt Adams last season, I'm predicting a major breakout.
The Mets, Marlins, Cubs, and Padres will all miss the playoffs. These four teams are the young, tendy picks to make a least a Wild Card berth this year, and while I think they'll all be better, I don't have any of them in the postseason.
Ubaldo Jimenez will make five or fewer starts. Gausman should be in the rotation, and Buck Showalter will fix that problem early.
The Rays will remain competitive until late September. They'll figure out a way to hang in the rave until the last week.
Marcell Ozuna, Travis d'Arnaud, Kole Calhoun, Danny Santana, Josh Collmenter, and Matt Adams will all make their first All-Star Game appearances.
Alright, I'd say almost 9,000 words is enough from me. Enjoy the season.