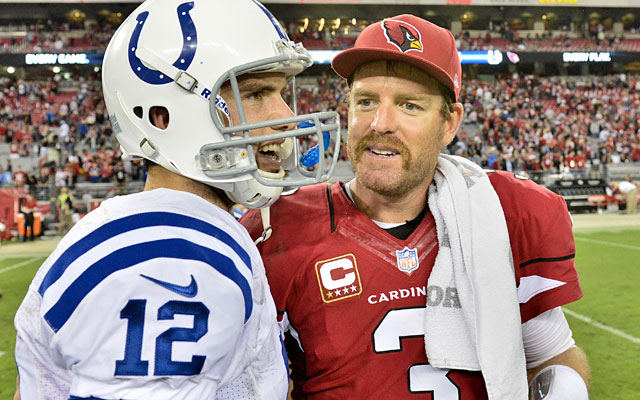 What the hell is he thinking with that mustache? Hopefully he's shaved that thing off since last week, but either way, I say that he leads his Cardinals to an upset victory in Philadelphia today. Oh my God Carson. Movember is over as of today, so you have no excuse. Scroll down immediately. Ew. Photo from cbssports.com
So, I started off pretty poorly last week, whiffing on my Bears, Jets, and Browns picks. But, to be fair, Brandon Weeden played for the Browns. In fact, I posted that on the
facebook page
, the Return of the
Wheeds
shouldn't count against me. Why should I be penalized because no matter what the Browns do, the Stench of Wheeds always comes back to infect their games?
He's so bad. But you know what isn't bad? My Thanksgiving picks! As I do with all Thursday games, I tweeted my picks. I even made tiny little comments for each one, my little treat. Here they are:
LIONS (-6) over Where Art Thou Aaron Rodgers? Detroit is inconsistent, but they can't lose to Matt Flynn...can they?
— William Botchway (@WilliamBotchway) November 28, 2013
They surely showed that inconsistency on Thursday. They were down early, but ripped off 37 straight points to win the game, and more importantly, give me the victory.
Raiders (+9.5) over COWBOYS. ALL IN ON THE MATT MCGLOIN BANDWAGON! LET'S GO! They should lose, but keep it close.
— William Botchway (@WilliamBotchway) November 28, 2013
A legendary backdoor cover here. They started off great, and held a 21-7 lead until the last 10 seconds of the first half. From there, Oakland fell apart, and fell behind by 10, with 1:56 left, which would have been a heartbreaking defeat. But then, Sea Bass saved the day with a 45 yard field goal. They needed a touchdown, an onside kick, and a field goal to tie, and while they only got one of those three things, the Raiders will live on in my hearts for that incredibly clutch cover. All hail the kicker taken in the first round!
RAVENS (-2.5) over Steelers. Home team pick here. If Bad Joe Flacco shows up he could best Mark Sanchez's Thanksgiving (lack of) performance
— William Botchway (@WilliamBotchway) November 28, 2013
And yet, the Ravens could still very well win
— William Botchway (@WilliamBotchway) November 28, 2013
Flacco played pretty well, but of course, I lost. By half a point. Come on, back in Week 7, the Ravens lost by 3 to the Steelers, failing to cover the spread by.....half a point. So in two Ravens-Steelers games this year, I'm 0-2 because of a combined 1 point. Awesome.
This puts me at 9-6 is Thursday games, and 93-82-4 on the year after a .500 Week 12, in which I went 7-7. I'm now safely over .500 for the year, but don't get too confident, there's still a way I can mess it up.
UPSET ALERT next to games in which I think the underdog will win outright, not just cover. Home team in CAPS
Jaguars (+7.5) over BROWNS.
The Jags aren't the worst team in the history of the universe anymore, because they've actually been playing well. And of course, the Stench of Wheeds is good news for any opponent of the Browns. Sure, the rest of their team is superior, and they should win this game, but it won't be a blowout. Because really, when was the last time Brandon Weeden led his team to a blowout victory. Maybe in a backyard football game in sixth grade. Maybe.
COLTS (-3) over Titans.
Look, I knew the Colts defense was worrisome, but I didn't expect this after great performances earlier in the year against San Francisco, Seattle, and Denver. They've given up 38 points and 40 points in two of the last three weeks, but that's not the worst part. The offense has been wildly inconsistent, albeit against pretty good defenses. In those same games against the Rams and Cardinals, they scored 8 and 11 points, respectively. I
think
they'll get back on track here, despite the Titans defense being pretty good themselves. If not, they'll certainly still win the division and make the playoffs, but I wouldn't feel too confident in their chances.
Bears (+1) over VIKINGS.
Okay, come on Josh McCown. You can't lose to the Vikings. The Bears defense, especially their run defense, is just awful, but the Vikings defense is worse. And the Bears offense is better, so I don't understand this line at all.
UPSET ALERT.
JETS (-1) over Dolphins.
I hate this team. Full preview to come later.
Cardinals (+3) over EAGLES.
The Cards defense is good, which means that they have the ability to at least slow down Chip Kelly's Offense-a-Palooza. That will be enough for the savior of Arizona...Carson Palmer? Yeah, that's happening. Carson Palmer might just lead the Cardinals to a playoff spot.
That
Carson Palmer.
UPSET ALERT.
PANTHERS (-7) over Buccaneers.
The Bucs have been playing much better recently, but I don't think it matters in this game.
Patriots (-7) over TEXANS.
The Texans look beyond the point of "given up" right now. It's sad to watch. On the other hand, the Patriots look like they're clicking, especially after that amazing comeback on Sunday night.That was fun to watch, and it means that they'll still be serious contenders in the AFC this year.
"BILLS" (-4) over Falcons. Game will be played in Toronto.
The Bills looked great against my Jets two weeks ago, but again, it was against my Jets. Either way, they are better than the Falcons at this point, and even though this game is in Toronto, the home crowd will be in full effect.
Rams (+8) over 49ERS.
This line is just large enough to give me pause. The Rams have a lot of big play ability on offense, namely, Tavon Austin. And their defense is just good enough to keep it close.
CHIEFS (+6.5) over Broncos.
The Broncos are the better team, but this line is ridiculous. Yeah, Kansas City is coming off of a rough loss to the Chargers, but I believe that their defense will get back on track (as much as a defense can against Peyton Manning), and Jamaal Charles will have a big game, leading to a Chiefs victory.
UPSET ALERT.
Bengals (+1) over CHARGERS.
The lines are all over the place for this game, but at the time of me making the pick, this is the most frequent line. Anyway, the Bengals are better. They just are. The Chargers have the worst defense in the league, and the Bengals have one of the better defenses in the league. Offensively, the Chargers are better, but the Bengals have really good weapons in Giovani Bernard and A.J. Green. So, you can see where this is headed.
UPSET ALERT.
WASHINGTON SEMI-PROFESSIONAL FOOTBALL TEAM (+1) over Giants.
I just don't know. Two teams that aren't particularly good. The Giants are better, but not by enough to discount the home field advantage. But of course, the Giants are going to win by 37 and make me look bad again.
SEAHAWKS (-4.5) over Saints.
Two good teams, but the Seahawks are better. Percy Harvin only compounds that fact. The fact that the game is in Seattle, this has all the makings of a random Seahawks blowout. Much like towards the end of last year, and in Week 2 against the 49ers, the Seahawks have recently had a habit of completely overpowering some of the best teams in the league. I'm not saying exactly that will happen here, but they are clearly the best team in the league, and this win will give them home field advantage throughout the playoffs. That should allow them to roll through to the Super Bowl in New Jersey.
Last Week:
7-7
This Week:
2-1
Season:
93-82-4