Photo courtesy of Dynasty Nerds
I've been hearing a lot of chatter recently about how bad this division is outside of the New England Patriots, and I must say that I disagree. Outside of the fact that I'm a New York Jets fan, I think that the team will be rather frisky this year, as will the Miami Dolphins. The Bills have a lot of issues, and probably will not have many wins, but are by no means a team that should be clearly at the bottom of the NFL.
I'll be previewing each team in the order of last season's standings, so let's kick it off with last year's winner, and the team that's most likely to repeat as the division champion.
Photo courtesy of Zimbio
New England Patriots
2013 Record: 12-4
Yards Per Game: 384.5 (7th in the NFL)
Points Per Game: 27.8 (tied-2nd in the NFL)
Yards Per Game Allowed: 373.1 (26th in the NFL)
Points Per Game Allowed: 21.1 (10th in the NFL)
After losing in the AFC Championship Game in 2013, the Patriots stood pat (no pun intended) this offseason, outside of two major defensive acquisitions. They lost cornerback Aqib Talib which would have been a huge blow, granted they didn't replace him with the best corner in the NFL, Darrelle Revis.
And he wasn't the only major corner that they signed this offseason, as the Pats reeled in former Seahawk Brandon Browner. While he'll be missing the first four games of the season due to a suspension, he'll be a major boon to an already very good secondary upon his suspension.
The defense was almost the definition of "bend but don't break" last season, as you can see by looking at the above stats. With those two guys now covering the outside, they won't bend nearly as much.
The offense hasn't changed much from last season, when the skill position players were generally average. Rookies Aaron Dobson and Kenbrell Thompkins were not very impressive, while Danny Amendola and Rob Gronkowski only played in 12 and 7 games, respectively. Stevan Ridley looked good for most of the season, until he was infected by the fumble bug, and he fell out of favor with Bill Belichick, whose official position with the team according to Pro-Football-Reference is "Head Coach/de facto General Manager."
Somehow, even with what was the worst supporting cast that Tom Brady has had to work with in many years, New England's offense was among the best in the league. Obviously most of the credit for that can be given to Brady for making the most of his situation.
The two bright spots on the offense were slot receiver Julian Edelman, and running back Shane Vereen, who were important parts of the team's passing game. The Pats ran the third most passing plays in the league that were short and over the middle. Edelman's 105 receptions while working almost primarily out of the slot and Vereen's ability to catch the ball out of the backfield allowed for the short passing game to become New England's bread and butter.
The fact that they liked working over the middle more than most teams means that should Gronk be available for most of the regular season, and throughout the playoffs, the Patriots offense can be unstoppable. He gives them a huge target over the middle, just the way they like it.
Another player to keep your eye on is tight end Tim Wright, who was just acquired by New England in the trade that sent Logan Mankins to the Buccaneers. He's young and athletic, and in an offense that is built around the tight end, he has the chance to become the replacement for Aaron Hernandez that the Pats were missing last season.
Combine the offensive improvements that are inevitable even without Gronkowski, as Thompkins and Dobson get better in their second season and Brandon LaFell adds another decent target, with the fact that the defense will be better, the Patriots could win the Super Bowl this season.
Photo courtesy of The Score
Miami Dolphins
2013 Record: 8-8
Yards Per Game: 312.9 (27th in the NFL)
Points Per Game: 19.8 (26th in the NFL)
Yards Per Game Allowed: 359.4 (26th in the NFL)
Points Per Game Allowed: 20.9 (8th in the NFL)
Despite having a very tumultuous season, with the Richie Incognito/Jonathan Martin bullying scandal becoming a huge talking point around the league and around the country, the Dolphins were good enough to finish with an 8-8 record.
I think that they'll be around the same team this season, but I would not be shocked if they made the playoffs, winning 10 or 11 games.
Their offensive line was an abject failure, even outside of the famous bullying case. The Dolphins did try to fix that in the offseason, signing Branden Albert, the best offensive tackle on the free agent market. they also drafted two lineman in the first three rounds, reaching for Ja'Wuan James in the first round, and taking Billy Turner in the third round. Still, both are question marks, as James was considered to be a second round talent at best, and linemen taken after the first round don't have the greatest track record for success in their rookie seasons.
As we've seen in the past, a couple of holes on the offensive line can bring down the entire unit, and a lackluster offensive line can derail an offense.
I believe in Ryan Tannehill, and he's why I believe that the Dolphins can be a playoff contender. The talent around him on offense is pretty average, and he's the only thing to get excited about with this offense. Much like last season, the biggest worry I have is whether or not he can be kept upright. We've seen throughout his career that when he's under consistent pressure, his effectiveness drops, which of course can be said about any quarterback in the NFL.
The defensive line is one of the best in the league, right up there with Tampa Bay, Houston, and division rivals New York Jets and Buffalo Bills. Cameron Wake is an absolute terror, and should continue his run as one of the top defensive ends in the game. Joining him are Randy Starks, Jared Odrick, and Olivier Vernon, all of whom will help lead this defense.
And they're going to have to, because the other seven guys that play behind this line do not inspire much confidence. The linebacking corps was awful last year, and they did nothing to help improve it.
Brent Grimes is a very good corner, but I don't know what to expect from Jamar Taylor across from him, and Cortland Finnegan was terrible in St. Louis last season.
There is a lot of potential for a very good season in Miami, but I'm just not predicting it to happen. Partially because I think that there's another team on the rise in this division, and partially because of a hunch, but I think the Dolphins will finish with a similar record to last season. However, there's a very good chance that I'm wrong if Tannehill raises his play to cement himself as a high quality quarterback.
Did you notice that very subtle hedge? Now I can't be wrong about the Dolphins! Ha!
Photo courtesy of Metro New York
New York Jets
2013 Record: 8-8
Yards Per Game: 318.1 (25th in the NFL)
Points Per Game: 18.1 (29th in the NFL)
Yards Per Game Allowed: 334.9 (11th in the NFL)
Points Per Game Allowed: 24.2 (tied-19th in the NFL)
Now it's time to talk about my boys, the Jets. I think they're going to be one of the most surprising teams in the NFL this season, putting my bias aside. I'm writing a full season preview for the Jets later on, so I'll save most of my analysis for that piece, but here's a short version of things.
Eric Decker and Jace Amaro were great acquisitions to improve what was an awful group of pass catchers last season. Chris Johnson is washed up as a full-time running back, but joining Bilal Powell and Chris Ivory in the backfield gives the Jets three reliable backs that can be rotated in and out of the game. Combined, they'll form a good trio.
I hear a lot of people writing off Geno Smith as a bust already, but that's totally unfair. In his rookie season with absolutely no one to work with, he had an up and down year, but that's to be expected in a player's first season in the NFL. He certainly showed competence, and while inconsistent, there were flashes of a very good QB. Given a much better group of players to throw to, he should continue to develop.
As for the defense, there is cause for concern in the secondary, but I think Calvin Pryor was a great draft pick, giving the Jets a nice safety over the middle, and that Dee Milliner steps up and plays like he did at the end of his rookie year.
Given how amazing the defensive line is, much like last year, no team will be able to run on the Jets. If Milliner improves, which I expect to happen, the Jets are a playoff contender.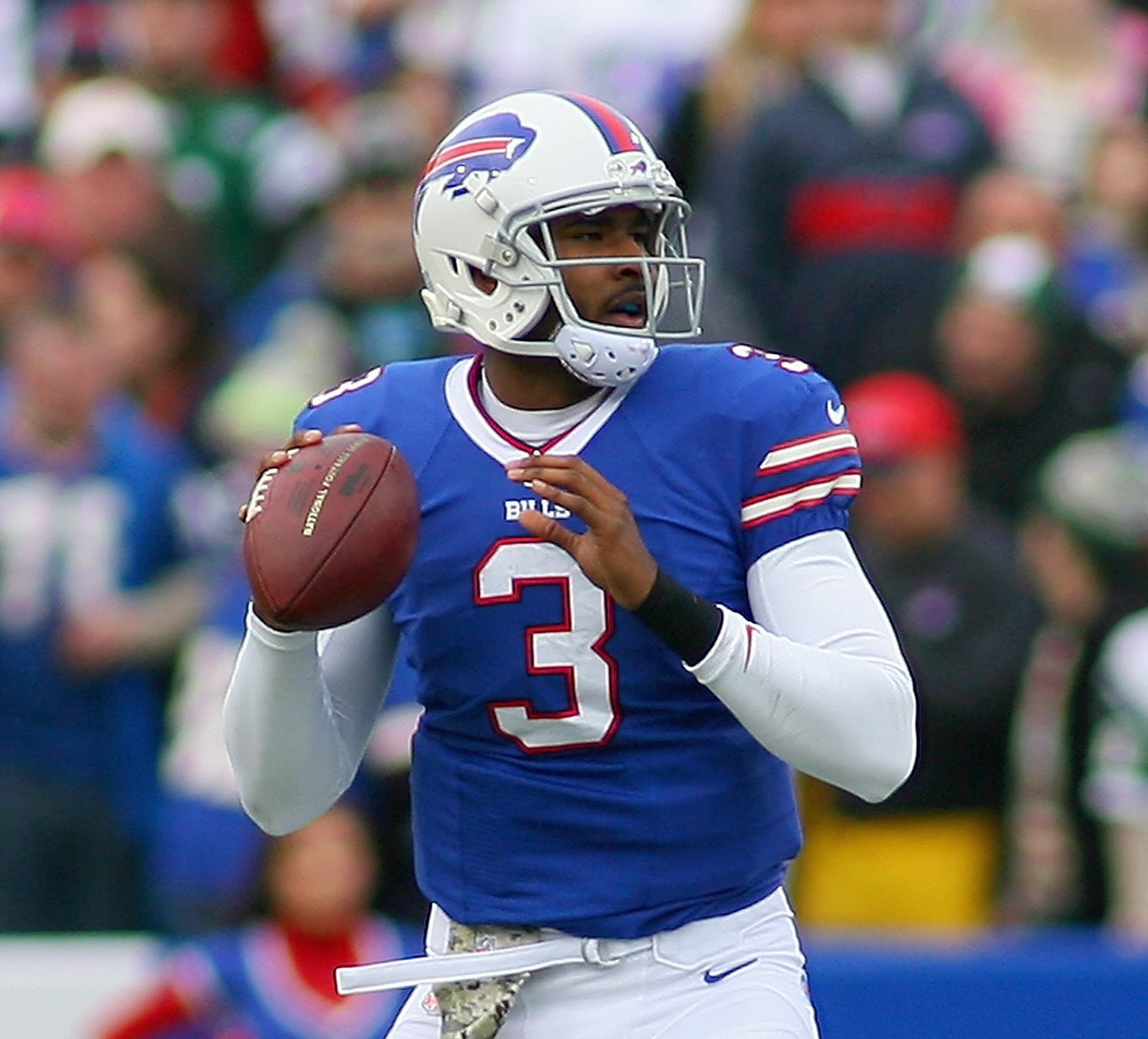 Photo courtesy of CBS Sports
Buffalo Bills
2013 Record: 6-10
Yards Per Game: 338.1 (19th in the NFL)
Points Per Game: 21.2 (22nd in the NFL)
Yards Per Game Allowed: 333.4 (10th in the NFL)
Points Per Game Allowed: 21.1 (tied-19th in the NFL)
Speaking of quarterbacks that people are writing off for absolutely no reason, it's time to talk about the Bills and E.J. Manuel. I don't get how after 10 games in the NFL, everyone seems to be of the opinion that Manuel is awful. Sure, he didn't exactly impress when he played, but there's no reason to think he can't improve in his second year in the league. Should that happen, then this Bills offense has a chance to be pretty good.
Trading up for Sammy Watkins was a horrible move, but he's going to be a very good wide receiver. Another horrible move was giving Stevie Johnson away in a trade with the 49ers, but a pass catching group of Watkins, Robert Woods, and Scott Chandler has the chance to be fine.
The combination of C.J. Spiller and Fred Jackson in the backfield is awesome. The two complement each other very well, and are one of the best duos in the league.
See, that's fine, but there is no way that the offense will be good enough to make up for all of the points that they're going to give up.
The defense was greatly helped by Rex Ryan's former defensive coordinator in New York, Mike Pettine. The only issue is that Pettine is now working in Cleveland. So, the Bills replaced him with former Lions head coach Jim Schwartz, who didn't exactly coach up a defensive juggernaut in Detroit.
The line is very good, and everything else is pretty bad. Losing Jairus Byrd to the Saints in free agency hurts, especially since they didn't replace one of the best safeties in the NFL. And, they've already lost linebacker Kiko Alonso for the season, leaving me without much to look at in the back seven. they'll be a very mediocre group overall.
E.J. Manuel would have to be amazing for this team to get near .500, which I don't see happening. At least not this season. I think they'll be one of the worst teams in the league this year, and thanks to the Watkins trade, they won't have their first round pick.
Final Standings
New England Patriots 12-4
New York Jets 9-7
Miami Dolphins 7-9
Buffalo Bills 4-12
Bold and Unnecessary Predictions That I'm Making Anyway
Shane Vereen will have 85 receptions. I think he's going to have a great year catching the ball out of the backfield in a Darren Sproles/Danny Woodhead role. He caught 47 passes in 8 games last year, so it looks like this is a possibility.
After another disappointing season, Joe Philbin is fired immediately. This isn't the boldest statement possible, I know. He hasn't impressed me as a coach thus far, and they'll have to move on.
The New York Jets will make the playoffs. The AFC Wild Card race is wide open, and a .500 team from last season was gotten better.
Fred Jackson and C.J. Spiller will combine for 2,600 yards from scrimmage. Together they had 2,395 last season, and I think that the team will make sure that they commit to the run.