Photo courtesy of Dynasty Nerds
In terms of competitiveness, the AFC North may be the best division in all of football. There are no amazing teams in this division, but none of the four teams can be considered bad. They're all going to finish with between 7 and 11 wins. Yes, that includes the Cleveland Browns.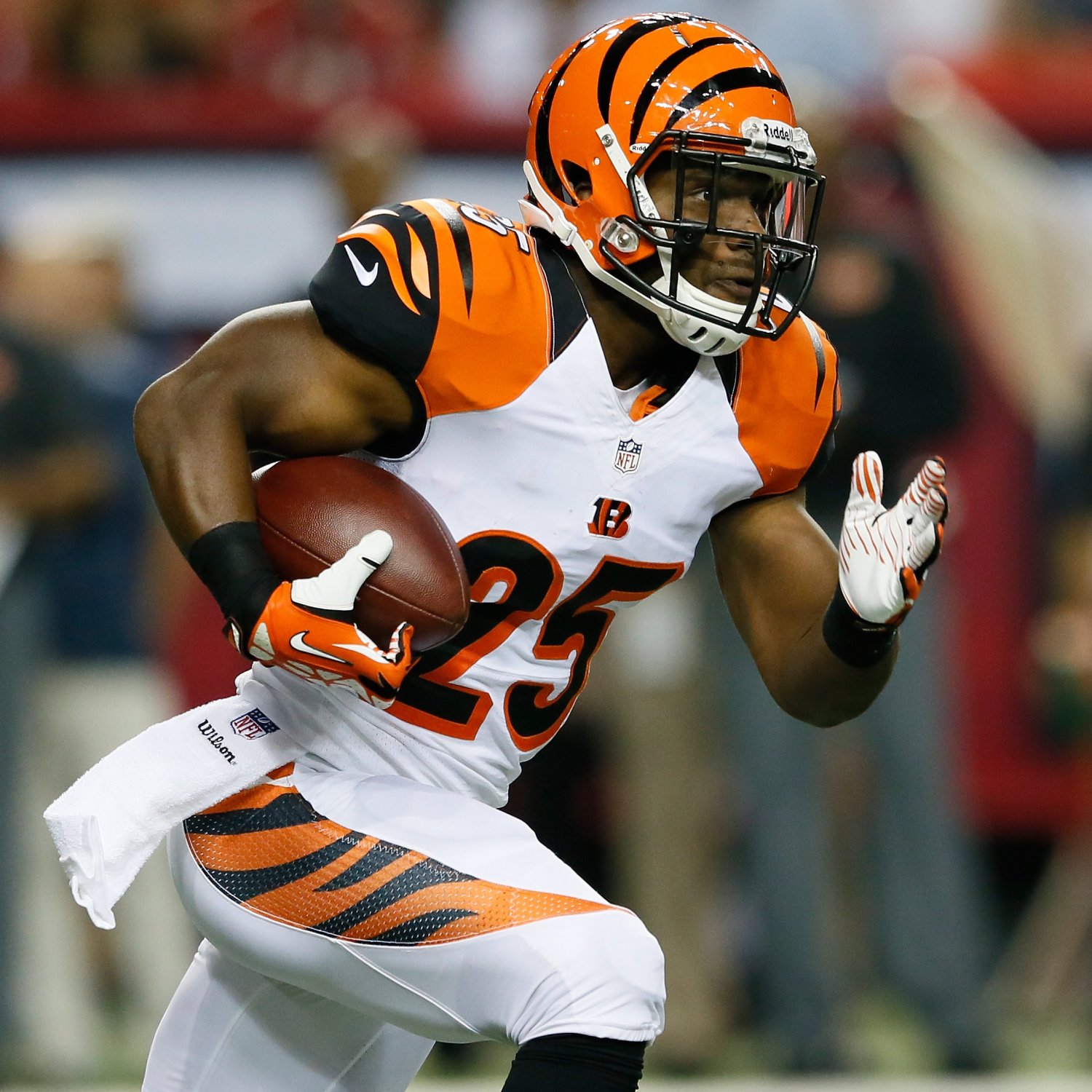 Photo courtesy of Bleacher Report
Cincinnati Bengals
2013 Record: 11-5
Yards Per Game: 368.2 (10th in the NFL)
Points Per Game: 26.9 (tied-6th in the NFL)
Yards Per Game Allowed: 305.5 (3rd in the NFL)
Points Per Game Allowed: 19.1 (5th in the NFL)
I picked the Bengals to represent the AFC in the Super Bowl and when the playoffs began, I hadn't seen anything to deter me from repeating that same prediction. Yes, major injuries on defense caused Cincy to be without they best defensive lineman, Geno Atkins, and their best defensive back, Leon Hall for the postseason. But they were missing those guys for most of the season, and still ended up with one of the stingiest defenses in the NFL.
I'm not worried about Andy Dalton. I'm not a believer in clutch, and as we've seen in the past with Eli Manning and Joe Flacco, average quarterbacks can have a big playoff run, taking their team farther than expected. And I know that the Jets didn't make the Super Bowl in 2009 or 2010, but they were ahead of the Colts at halftime and nearly came back to defeat the Steelers in each year, led by game manager extraordinaire Mark Sanchez.
The point is, you do not have to have an elite quarterback to win in the NFL, especially when that quarterbacks has a great collection of talent around him. A.J. Green is one of the best wideouts in the game, Marvin Jones and Mohamed Sanu are pretty good extra options, and tight end Tyler Eifert should have a big year because another receiver, Andrew Hawkins, left in free agency.
According to NFLSavant, the Bengals ranked eighth in the NFL in rushing attempts. Expect that ranking to jump to third or fourth this season under new offensive coordinator Hue Jackson.
Jackson has coached many different position groups in his career, and even became a head coach for one season. I don't know if this exactly counts as an NFL coaching job, but he led the Oakland Raiders for a year before being senselessly fired by new General Manager Reggie McKenzie, after leading the team to an 8-8 record; their second in a row (yes, Tom Cable was fired after an 8-8 season the year prior, because logic is ignored in Oakland), and second non-losing season since 2003.
Other than to get myself worked up about how stupid the Raiders have been over the last few years, the point of that was to tell you that under Jackson, the Raiders had one of the best rushing attacks in the NFL, led by Michael Bush, Darren McFadden, and Marcel Reece.
I love me some Marcel Reece, but the combination of Giovani Bernard and Jeremy Hill is better than that crew he had to work with in Oakland. The Bengals will be able to run on just about everybody this season, and set up a lot of easy passes through play action.
Losing defensive coordinator Mike Zimmer should be a pretty big loss on defense, but I think that the talent is good enough to sustain themselves even without a great coach. Also, it's a chicken and egg situation where it's impossible to tell whether Zimmer made the defense much better than it should have been, or the defense was good enough on its own that it made Zimmer look like a genius.
What I do know is that Geno Atkins is an elite talent at defensive tackle, and having him play a full 16 game season should be huge for what was one of the best defenses in the NFL last year. They're also getting back cornerback Leon Hall, and drafted Darqueze Dennard in the first round to play corner.
They lost Michael Johnson to Tampa Bay, which shouldn't be a huge loss, so I expect more of the same from the Cincinnati defense this season.
Once again, I think they will be one of the better teams in the NFL this coming year.
Photo courtesy of SI Kids
Pittsburgh Steelers
2013 Record: 8-8
Yards Per Game: 337.5 (20th in the NFL)
Points Per Game: 23.7 (tied-16th in the NFL)
Yards Per Game Allowed: 337.6 (13th in the NFL)
Points Per Game Allowed: 23.1 (14th in the NFL)
After finishing 8-8 last season, I don't believe that the Steelers made enough change to their roster for me to expect much more from them this year.
The offense lost Jerricho Cotchery and Emmanuel Sanders, while gaining Lance Moore and Darrius Heyward-Bey, which overall is an obvious downgrade.
On defense, despite getting early draft picks Ryan Shazier and Stephon Tuitt two players who should be awesome in Dick LeBeau's defense, the majority of the defense is still on the decline. The once-feared Steeler defense will not be back at that level this year.
I think that they're doing the right thing, as they are drafting very well to build for the future, but I don't think they did enough to move the needle for this season.
The one problem with this prediction is that the Steelers tend to fool me almost every year, so I don't have much confidence that I'm right.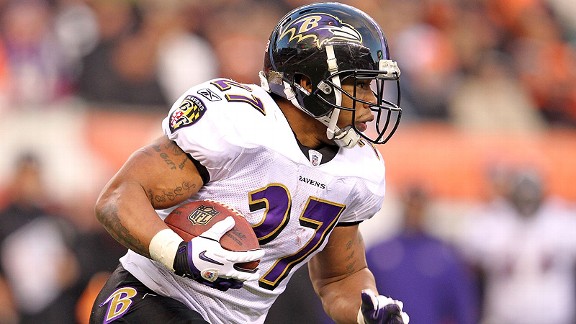 Photo courtesy of ESPN
Baltimore Ravens
2013 Record: 8-8
Yards Per Game: 307.4 (29th in the NFL)
Points Per Game: 20 (25th in the NFL)
Yards Per Game Allowed: 335.5 (12th in the NFL)
Points Per Game Allowed: 22 (12th in the NFL)
Ah, now it's time to talk about the Ravens. After winning the Super Bowl, the Ravens failed to qualify for the playoffs last season. As you can see by the ranks listed above, the offense was awful last season, causing the team to disappoint many.
The main cause of the horrible offensive output was the decline of Ray Rice. Rice had been one of the steadiest running backs in the NFL over his first five years, averaging 1,104 rushing yards, 62 receptions and 543 receiving yards per year, even when I include his rookie season, in which he only started four games. Out of nowhere, at the age of 26, Rice had by far his worst year, rushing for only 660 yards, while catching 58 passes for 321 yards.
With Gary Kubiak bringing his zone blocking scheme over from Houston, Rice should be rejuvenated upon returning from his suspension.
(This is a football article so I'm staying away from making comments about Rice as a human being, as hard as that is.)
Adding Steve Smith improves the wide receiver group this season. Smith looked kind of washed up last year in Carolina, but now that he won't be forced to be the #1 option, he'll look a lot better.
The defense is going to be better than last season, when they were overall only slightly above average. There were a lot of young players, and I believe that a lot of those players like Matt Elam, Jimmy Smith, and Arthur Brown will get better.
Expect to see the Ravens in the hunt for the playoffs again this season.
Photo courtesy of USA Today
Cleveland Browns
2013 Record: 4-12
Yards Per Game: 339.4 (17th in the NFL)
Points Per Game: 19.2 (27th in the NFL)
Yards Per Game Allowed: 332.4 (9th in the NFL)
Points Per Game Allowed: 25.4 (23rd in the NFL)
If Josh Gordon was not suspended for the entire season, I probably would have ended up with the Browns in the playoffs.
I think that Brian Hoyer is pretty good, but the real wild card is when Johnny Manziel takes over the starting role. He adds another dimension to their offense which lacks too many skill position players. Miles Austin and Andrew Hawkins are the starting receivers, which isn't exactly
disgusting
, but not too much to look at.
Jordan Cameron had a great connection with Hoyer in the few games in which they played together in 2013, so it should be interesting to see how Cameron fares this year.
The defense was quietly very good last year. The defensive line is very deep with Billy Winn, Ishmaa'ily Kitchen, and John Hughes providing very good quality for rotation linemen behind starters Ahtyba Rubin, Phil Taylor, and Desmond Bryant, who are all good.
I like the linebacking corps, and if Barkevious Mingo can improve on a lackluster rookie season, the front seven will be feared by every offense in the league.
Rookie corners Justin Gilbert and Pierre Desir are expected to be nice players in the future, but rookie defensive backs have always been a crapshoot. They don't need to be shutdown guys because they'll be next to one of the best players at the cornerback position, Joe Haden.
I don't think that Manziel will play more than 10 games this year, which will hurt their offense, since they need a playmaker without Gordon, something that Hoyer can't do.
Even so, the defense will keep this team afloat throughout the year, and the Browns have a pretty nice season as they build toward their future.
Final Standings
Cincinnati Bengals 11-5
Baltimore Ravens 10-6
Pittsburgh Steelers 8-8
Cleveland Browns 7-9
Bold and Unnecessary Predictions That I'm Making Anyway
Giovani Bernard will gain 1,700 yards from scrimmage. I'm simply running back (pun intended) my prediction from last preseason because I assumed that Bernard would totally take over the starting job from BenJarvus Green-Ellis during the season, which somehow didn't happen. Even though I like Jeremy Hill, Bernard is going to have a great year, rushing and receiving.
Antonio Brown will have 1,700 receiving yards this season. He had 1,499 yards last year with Emmanuel Sanders still in town. With Sanders now in Denver, I don't see who is going to be stealing his receiving output.
Ray Rice will rush for 1,000 yards this season. Even while only being eligible to play in 14 games, the new running scheme that Kubiak will bring to Baltimore will cause Ray Rice to look good once again.
The Browns defense will be a top 7 defense this season. It depends on how exactly you choose to rate defenses, whether it be by yards, points, fantasy points, or Football Outsiders' DVOA, but I think that in any case, when the season's over, the Browns will clearly be one of the better units in the game.