Photo courtesy of Mets Blog
As the New York Mets near the end of their ongoing rebuilding process, it's time for Sandy Alderson to re-evaluate the entire team and see who can help the team on a day to day basis over the next few years. Once that task is completed, it's time for the front office to work to get rid of the dead weight, or those who aren't seen as useful in the coming years, and to plug up the holes with quality talent. They also need to look at where there's a surplus of talent, and where there's a dearth, and to plan accordingly.
Some of the answers are rather obvious when taking a look at the Mets. David Wright looks to be regressing, but for now at least, he's still a very useful player. Obviously, the pitching depth is incredible both at the major league level and coming up through the farm system. Guys like Noah Syndergaard, Rafael Montero, and Steven Matz are well-known to Mets fans, but even in smaller prospects like Jack Leathersich and Cory Mazzoni, the Mets have the ability to put together a historically great rotation and bullpen filled with homegrown talent.
It's clear that the team needs some more bats in the lineup. The question is, how many? Shortstop is an issue because while Ruben Tejada has improved upon an absymal 2013, he still hasn't been anything to write home about. He's been getting on base at a very nice pace, flashing a pretty .355 OBP, but his complete disregard for extra base hits, as evidenced by his .285 SLG, is an issue.
Outfield help is a necessity. The Young boys in left field have been nothing short of a disappointment, which is why Chris Young found himself Designated for Assignment last week. The really interesting debate begins when looking at who stands next to either of them in the outfield grass.
Juan Lagares has been an elite defensive player since his career began last April. The problem is, that his offensive success has come and gone periodically. Is it worth locking him in as the center fielder when there's no guarantee that he'll ever develop into anything more than an inconsistent hitter?
Throughout his minor league career, Lagares was a largely uninspiring hitter. Since signing with the Mets as an amateur free agent at 17 years old in 2006, Lagares hit .281/.322/.403/.725 over the past nine seasons in all levels of the minors.
His best offensive season came in 2011, when he played 82 games in high-A and 38 games in Double-A, posting an overall .349/.383/.500/.883 line. And prior to making his major league debut in April 2013, he looked like he was on his way to a nice season in Las Vegas, hitting .346/.378/.551/.929 in, obviously a very tiny sample of 17 games.
There are some certain trends when looking at his professional career as a whole. First of all, Lagares has been a relatively free swinging batter, as seen by his low walk totals. Over his first 203 games in the MLB, he's drawn only 33 walks, which translates to one base on balls about every 6 games. His walk rate is 4.6%, which is well below the major league average of 7.9% over the past two years.
He also tends to swing at bad pitches more than most. According to Baseball Info Solutions, Lagares has swung at 35.8% of pitches outside of the strike zone during his major league career, compared to the major league average of 31%.
What makes his impatience somewhat bearable is the fact that he's been a pretty decent contact hitter, which levels out his OBP to an acceptable total. While his .281 minor league batting average may not look like the greatest considering the competition that he's facing, it looks better when compared to the fact that he's hitting .283 in 83 major league games this year.
While he may be over-aggressive in swinging at pitches outside of the strike zone, he also successfully makes contact at an above average clip. He makes contact with outside pitches 72% of the time, well above the MLB average of 66.2%. While the quality of that contact isn't necessarily great, it's good to know that if he's going to keep chasing balls out of the zone, he's not simply whiffing all of the time.
At times, he is able to flash a good amount of power. Some of that is due to his speed allowing him to stretch singles in the doubles, and doubles into triples, but as always, what happens off the bat is the most important thing to evaluate. A .403 slugging percentage in the minor leagues doesn't suggest that he'll hit for much power in the majors, but overall, his power has been coming in inconsistent bursts.
The problem is, I'm not sure how much of his moderate offensive success will continue. That .283 average in 2014 is heavily augmented by a ridiculous .363 BABIP, well above his major league mark from last year, which stood at .310 by year's end. As a result, his .242 average from his rookie season has spiked significantly.
BABIP, or batting average on balls in play, can be a very telling stat when looking at a player's future. A very high BABIP usually suggests that the batter is set for some regression, as they have been getting very good luck with bad defense, cheap infield singles, and bloopers in no-man's land. A very famous case disproving this theory is Mariners' center fielder Austin Jackson, who is able to use his speed to maintain a high BABIP mark. It's entirely possible that Lagares's speed is aiding him this season much more than last, but any wild fluctuation in BABIP is a red flag. It's definitely something to keep in mind when evaluating Lagares's career to this point and projecting forward.
Overall, Juan Lagares's MLB averages of .260/.299/.367/.667 look to be right in the ballpark of what his slash line will look like for the forseeable future. He's only 25 years old, meaning that he has yet to enter his offensive prime, but it's unlikely that any player will get drastically better in their prime if their past doesn't show anything that should get people excited. Juan Lagares will almost certainly be at best a mediocre hitter with some stretches of greatness, and many more slumps.
So, of course that means that he shouldn't be part of the Mets' long term plans. If there's almost no hope for him offensively, then he needs to do, right?
I won't blame anyone for thinking that way about Lagares. But their mind will change when they watch what the man can do with a glove. Watching Lagares field is one of the best things about the Mets. He's easily the best center fielder to come to Flushing since Carlos Beltran's prime ended and he was shipped out of town.
Die-hard baseball fans already know about the other-worldy defense of Braves shortstop Andrelton Simmons, but Lagares deserves that type of mainstream attention for the way he plays in center.
So what if his defense is great? If he can't hit, then does it really matter?
That's true depending on what position the player in question fields. If we're talking about a first or second baseman, or a corner outfielder, defense is much less important, but still needs to be factored into the player's overall value. But when the amazing defensive player is a center fielder, the value of that defense is much higher. Center field is probably the most important defensive position in baseball (except maybe catcher), so having a guy out there with the talent of Lagares of extremely valuable and can save many runs.
Speaking of saving runs, Lagares has been near the top of the leaderboard in Defensive Runs Saved since making his debut. Among all fielders, Lagares is second to the aforementioned Andrelton Simmons with 49 DRS. In fact, had Lagares not missed significant time due to injuries over the past couple of seasons, he would be far and away the league leader in this category. Lagares has only played 1485.2 innings since the beginning of the 2013 season, while Simmons has played 2302 innings. Because DRS is a cumulative stat, playing less innings hurts Lagares overall, but on a per inning basis Lagares has been much better than Simmons. He has saved .033 runs per inning compared to .024 runs per inning for the Braves' defensive whiz. When I extrapolated those per inning averages over a full season of 1455 innings, Lagares turns out to be
much
better than Simmons, racking up an incredible 48 DRS while Simmons only saves 34 runs above the average fielder.
Another well-known defensive metric, UZR speaks very well of Lagares's abilities in the field. His Ultimate Zone Rating has been tops in the major leagues at 37.6 during his career.
Defensive statistics aren't perfect by any stretch of the imagination, but they do aid people in forming a broad opinion on a player's defensive skills.
There are quite a few reasons why Lagares is such an incredible defensive player. These spray charts gathered by FanGraphs illustrate his talent:
The percentages seen in the second chart are measured by Inside Edge, in an attempt to put into perspective how easy each defensive play is to make. Do you see that huge gap in the middle of the second chart, which is almost all green in the first chart? That's because Lagares does not mess up easy fly balls. His only missed play right in the heart of center field was considered by Inside Edge to be impossible to field. According to this chart, he's missed quite a few fly outs with a 40% or higher chance of being fielded. But, when the time parameters are shortened to include only his 2014 results, you get this:
All but one of the yellow and green dots completely vanish, suggesting that Lagares has been even more reliable in the field this season than last. It's a scary thought that someone already so good can keep improving. He's a very sure-handed fielder, and tends not to mess up routine plays. He also won't make the spectacular, diving grabs that get replayed all over the internet and ESPN, but I'd trade that for his inability to make mistakes on easy fly balls.
FanGraphs' Jeff Sullivan wrote
an amazing piece of Lagares's defensive prowess
last September, and I encourage everyone to read it. In a quick analysis of Lagares in center, one would be able to see that his starting position is routinely more shallow than most center fielders in the MLB. He's able to do that because his speed allows him to catch up to the balls that go over his head, as seen here: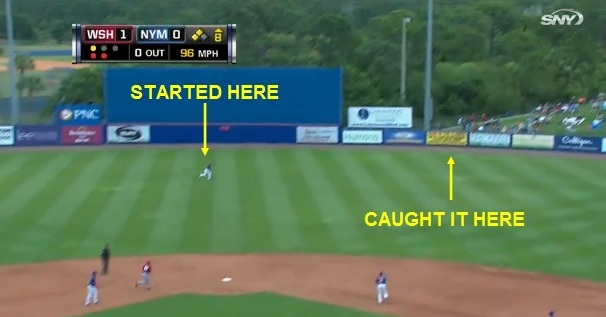 Photo courtesy of CBS Sports
And here:
GIF courtesy of Amazin Avenue
As Sullivan wrote, playing so shallow, along with a quick first step and very sound fundamentals enables Lagares to catch up to balls quicker than usual, and closer to the infield. Once there, he's able to fire the ball in and, despite not having the strongest arm in the world, overall has one of the best. Starting his throws so much closer to the infield lessens the need for a cannon arm like what Yasiel Puig and Yoenis Cespedes are known for. Shorter, more accurate throws makes Lagares nearly impossible to run on.
Teams have started to take notice of this, as Lagares's 15 assists in 2013 have been nearly eliminated from his stat line this season, as the number now only stands at 4 in the middle of August. That's because everyone is so deathly afraid of Lagares's arm that they won't run on him unless the circumstances are perfect. They know that he isn't any average center fielder out there.
There are few center fielders in the league that can even come close to matching Lagares's value. The only players that come anywhere near him in center are Milwaukee's Carlos Gomez, Texas's Leonys Martin, Arizona's A.J. Pollock, and Kansas City's Jarrod Dyson
and
Lorenzo Cain. No, not even my boy Mike Trout, who has admittedly fallen off defensively over the last couple of years, can sniff Lagares's defensive value. And while these other guys may come close, Lagares is clearly better than all of them.
What does all of this mean for the Mets?
A remarkable defensive center fielder is rare, and any team with a player like that should make sure that they do their best to maintain that player, even if their offense is subpar. Watching Lagares at the plate might be a tough pill to swallow at times, but as long as the other seven position players are quality hitters, Lagares's issues will be much less of a factor. Hitting him eighth and surrounding him with good bats will lessen the blow. In the case of Lagares, his exceptional defense more than makes up for his lackluster offense.
All statistics courtesy of Baseball-Reference and FanGraphs. All graphs courtesy of FanGraphs.