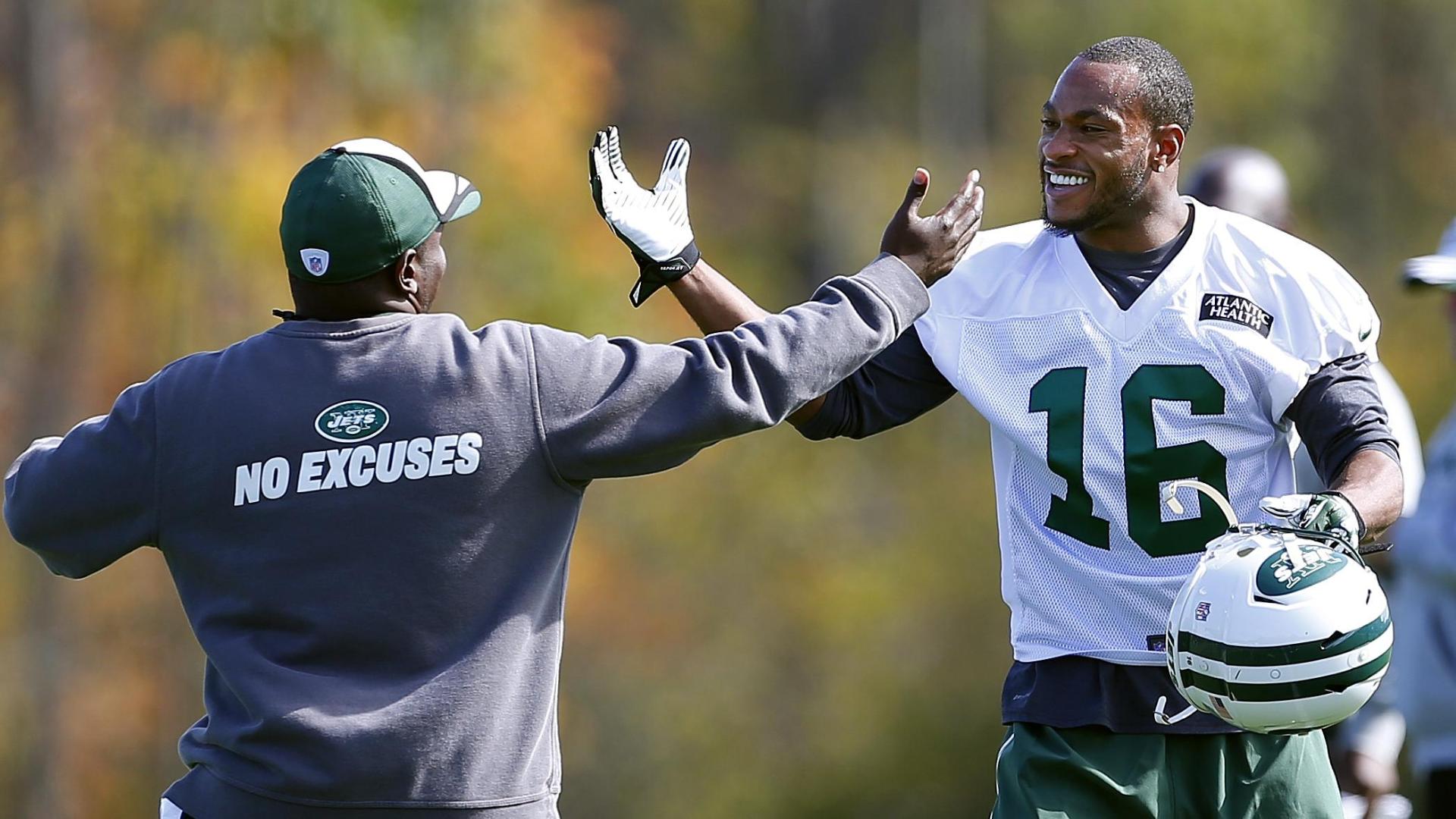 Photo courtesy of ESPN
OUT
Bills:
WR Marquise Goodwin (hamstring), LB Ty Powell (ankle)
Jets: None
DOUBTFUL
Bills:
RB Fred Jackson (groin)

Jets:
None
QUESTIONABLE
Bills:
WR Marcus Easley (knee), S Aaron Williams
Jets: OLB Trevor Reilly (knee), WR Greg Salas (wrist/ankle)
PROBABLE
Bills: LB Brandon Spikes (ribs), WR Sammy Watkins (groin), DE Mario Williams (thumb), CB Ron Brooks (groin)
Jets: OL Oday Aboushi (shoulder), CB Philip Adams (groin), LB Antwan Barnes (knee), G Willie Colon (knee),

WR Eric Decker (hamstring), LD David Harris (shoulder),
RB Chris Johnson (ankle), C Nick Mangold (shoulder), RB Bilal Powell (foot), CB Darrin Wals (knee)
Last Friday, while I was in the waiting room of my doctor's office, I happened to check Facebook on my old, dying flip phone, which was replaced about 16 hours later. I saw a post from one of my friends saying that the Jets just acquired Percy Harvin.
Umm...
Umm...
What?
Because the loading time was so slow on that phone, I was only able to get through enough of my news feed to reach an article that stated that in fact, the Jets have traded a draft pick to Seattle for Percy Harvin.
Excitement sets in.
Celebration ensues.
Percy Harvin is one of my favorite players in the entire league, because he's so explosive and versatily. In 2012, he was the league's MVP in the first half before losing the rest of the year to injury. Yes, when Adrian Peterson was 8 yards away from tying the single-season rushing record, he wasn't the best player on his own team through 8 games.
Injuries have put a huge damper on his career, as he's only played 55 of a possible 80 games over his first five years in the NFL, but he's been very good when healthy. He led the league in average yards per kick return in 2011 and 2012, and was used all over the field. Sometimes he's a deep threat, sometimes he's a running back, and sometimes he's a possession receiver to be used on screens and slants. But, with only a couple of exceptions, he's always the best playmaker on the field.
My reaction to the acquisition of Harvin was similar to how I felt when the Jets traded for Brett Favre in 2008. I was absolutely giddy. I already had designs to get my hands on his jersey as soon as possible. In fact, Harvin is the best skill position player the Jets have had since before Favre fell apart down the stretch of the 2008 season. And, when I exclude quarterbacks, he's the best running back or receiver that has donned green and white since Curtis Martin in 2004 (I'm not counting his final season when he was falling apart at the seams.).
Also, this finally sort of makes up for what the Jets did to me in the 2005 offseason by trading away my favorite player, Santana Moss, straight up for Laveranues Coles, giving the Jets an exciting playmaker for me to be amazed by.
As for the game, whatever.
I'm afraid that Sammy Watkins is going to burn the Jets' secondary repeatedly, but I think that with the lack of a running game without C.J. Spiller and Fred Jackson, the Jets can send extra men on a blitz, making it harder for Kyle Orton to throw the ball.
The Bills' defense has been very good so far this year, but I think that the Jets are just good enough to have success. If Geno Smith looks at least average, the Jets finally have enough weapons around him to be a very good offense. Harvin joining Eric Decker, Chris Ivory, and Jace Amaro gives the Jets a great core of skill position players. It all rests on Geno today, and for the rest of the year. Don't expect to see Harvin used to his full potential this week, as he's only had one week of practice time with the Jets, but Marty Mornhinweg's creativity should allow for at least a couple of unconventional plays involving his new toy.
The Jets will have just enough success slowing down Buffalo's suddenly one-dimensional offense, and will continue the offensive success that they found last week in New England.
Bold and Unnecessary Predictions That I'm Making Anyway
Geno Smith will throw for 250 yards. It's easy to get burnt by Geno Smith-related predictions, but I think that with an above average group of weapons, he should have a nice day.
Kyle Orton will be sacked 5 times. Rex Ryan loves to send all-out blitzes, and they should be pretty effective this week against a Bills team whose running game should be stifled all day long.
JETS (-3) over Bills.

Jets 27, Bills 17.