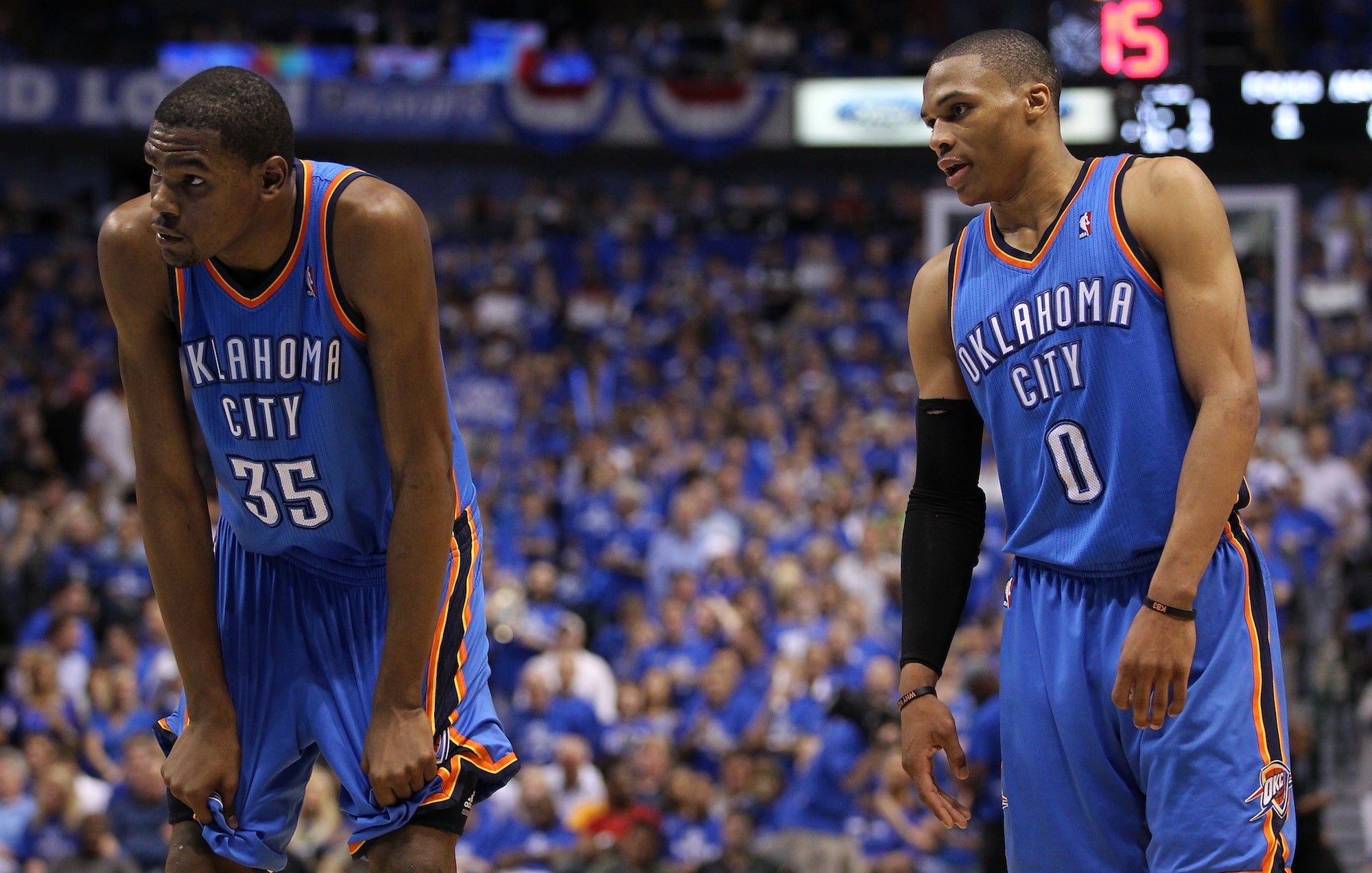 Photo courtesy of Deaspin
I'm very excited for this NBA season. A wild offseason has conjured up a great amount of interest all across the league, and I think we're in for one of the more fun seasons in recent memory. A star came home in a move so big it forced me to basically write
an NBA Preview in July
, teams added key pieces that should raise the entire team to a new level, there are quite a few breakout candidates, and of course, everyone is excited to see what should be the best rookie class in recent memory.
So, with that in mind, it's time to get started with this giant preview that will get you set for the season, complete with projections for each and every team, standings, awards,m and of course, a champion.
Let's kick if off with the Eastern Conference standings:
1. Chicago Bulls
Projected Starting Lineup:

Rose, Butler, Dunleavy, Jr., Gasol, Noah

Team Outlook: If Derrick Rose stays healthy, this team is easily one of the few legitimate title contenders in the league. If he gets hurt again, they are good enough to sustain itself and be a top 3 seed in the Eastern Conference, but will not have enough to win a championship. I love the moves they made in the offseason to replace Carlos Boozer with a cheaper, better offensive player, and add two young offensive players to nurture on the bench.
Worst Case Scenario: 52 wins. Rose goes down once again, and despite the new additions, the Bulls remain at about the same level as last season.
Best Case Scenario: 64 wins. Everything clicks from the beginning. Rose is healthy and playing like a superstar once again, Noah keeps up his pace from last year, Gasol adds a little extra to their first unit, Butler and Snell continue to develop, and McDermott and Mirotic provide quality minutes off the bench.
2. Cleveland Cavaliers
Projected Starting Lineup:

Irving, Waiters, James, Love, Varejao

Team Outlook: Adding the biggest star in the game helps. Adding another one of the top ten players in the league right now helps even more. The Cavs are in for a few years of a lot of fun, and it starts now.Despite the additions of James Jones, Shawn Marion, and Mike Miller, I'm not in love with their bench, especially in comparison to Chicago, but they are clearly one of the top teams in the league by virtue of having two superstars to go along with Kyrie Irving, who is obviously a very good player himself.
Worst Case Scenario: 55 wins. It takes a while for everyone to get accustomed to one another, as James, Love, and Irving struggle to figure each other out, the ball doesn't move well enough, and they look very discombobulated, much like in LeBron's first season in Miami
Best Case Scenario: 67 wins. Talent takes over, and the Cavs run all over the entire NBA on their way to a historically great season.
Projected Starting Lineup:

Wall, Beal, Pierce, Nene, Gortat

Team Outlook: Bradley Beal will be missing for about the first two months of the season, but I still think the Wizards will be a top three team in the East. Adding Pierce to the mix propelled Washington to the level of a dark horse title contender. If everything breaks right, they can potentially make a lot of noise this year.
Worst Case Scenario: 45 wins. Losing Beal hurts, as it forces Glen Rice, Jr. into the lineup, and they fail to recover from it thanks to their lack of depth.
Best Case Scenario: 54 wins. Wall raises his game once again, this time to the level of an undisputed superstar, Rice, Otto Porter, and Kevin Seraphin step up and provide quality minutes off the bench, and the Wizards look primed to hang with the big boys this spring.
4. Toronto Raptors
Projected Starting Lineup:

Lowry
, DeRozan
, Ross, Johnson, Valanciunas

Team Outlook: I like this team overall, and they should almost certainly repeat as Atlantic Division champions. The entire roster is two-deep with at least average players, which bodes well for them throughout the season. Their depth sets them up very to deal with the attrition that comes with the 82 game season. The Raptors are one big trade away from being a title contending team.
Worst Case Scenario: 42 wins. Kyle Lowry and DeMar DeRozan take steps back, and the Raptors barely scrape by .500.
Best Case Scenario: 51 wins. Adding Lou Williams, along with the natural progression of Jonas Valanciunas make Toronto slightly better than they were last year. We the North!
5. Charlotte Hornets
Projected Starting Lineup:

Walker, Stephenson, Kidd-Gilchrist, Williams (don't ask why), Jefferson

Team Outlook: Back in May, I deemed Charlotte the perfect spot for Lance Stephenson, and I was so happy to see my perfect plan fall into place. Building on a rather surprising playoff appearance in 2014, the Bobcats turned into the Hornets, added honeycombs to their court, and became one of the more exciting teams in the league. Stephenson comes to town along with rookies Noah Vonleh and P.J. Hairston to join one of the few big men in today's NBA who can take over a game offensively, Al Jefferson. Things look to be on the rise in Charlotte. It's going to be a very fun year.
Worst Case Scenario: 41 wins. Injuries, I guess? I don't see a scenario where they are under .500.
Best Case Scenario: 49 wins. Lance makes his first All-Star appearance, while he and Al combine to make this offense one of the best in the league.
6. Atlanta Hawks
Projected Starting Lineup:

Teague, Korver, Carroll, Millsap, Horford

Team Outlook: With Al Horford returning to a team that made the playoffs without him last season, the Hawks should be very good. Paul Millsap finally got himself a well-deserved All-Star roster spot last year, and adding Horford to the mix should be exciting. Along with those two, Jeff Teague gives Atlanta a nice core. Nothing else really excites me all that much, but those three along with just about subpar production from everyone else makes the Hawks a playoff team.
Worst Case Scenario: 39 wins. Horford isn't 100% to begin the year, and the poor supporting cast rears its ugly head.
Best Case Scenario: 47 wins. One of my favorite Southeast Division centers named Al comes back strong, while he and Millsap quietly form one of the best offensive frontcourts in the NBA.
7. Miami Heat
Projected Starting Lineup:

Cole, Wade, Deng, Bosh, Andersen

Team Outlook: I believe that it's clear that Chris Bosh will be the focal point of the Heat this year as they move on from LeBron James. The real issue is whether or not Wade is still a viable second option on a playoff team, especially when he's such a health concern. The Heat were centered around having the best player in the league, and that's no longer the case. Bosh, Wade, and Deng are talented enough to keep them in the playoff hunt, but a first round exit is in the works.
Worst Case Scenario: 35 wins. Bosh is unable to carry the load and Wade isn't able to play more than 55 games at a high level.
Best Case Scenario: 47 wins. Chris Bosh looks like Toronto Chris Bosh and plays like a bona fide star offensively, while Wade is able to play 70 productive games over the course of the year.
8. New York Knicks
Projected Starting Lineup:

Calderon, Shumpert, Anthony, Bargnani, Dalembert

Team Outlook: After a horribly disappointing season, President Phil Jackson made a bunch of changes over the summer to make them a younger, faster, and deeper basketball team. It's going to be great watching Carmelo Anthony dominate in the Triangle Offense, but it's hard to envision a way that the Knicks get anywhere above the 7th seed in the conference because the defense is going to be horrible, which means they're headed for a first round exit at best. As a Knicks fan, I'm happy that they were able to make progress this offseason, and I'm cautiously optimistic for the future. Look out for at least one in-season trade.
Worst Case Scenario: 31 wins. The total lack of defense is a major issue, and the Triangle Offense fails to stick from the beginning of the year, setting a terrible tone.
Best Case Scenario: 45 wins. Giving up 164 points a game doesn't matter, as Melo wins the scoring title in an offense that is clicking on all cylinders.
Projected Starting Lineup:

Williams, Johnson, Kirilenko, Garnett, Lopez
Team Outlook: Brooklyn's two best players last season were Shaun Livingston and Paul Pierce. Neither of them are playing for them this year. Getting Brook Lopez back is important, and will keep them afloat, but that won't be good enough to make the playoffs in a much improved Eastern Conference.
Worst Case Scenario: 33 wins. Lopez's health gets in the way yet again, and no one really steps up to carry the load outside of Joe Johnson and somewhat Williams.
Best Case Scenario: 46 wins. Brook Lopez is healthy and fully regains his form as one of the best offensive centers in the game, while Deron Williams looks spry.
10. Detroit Pistons
Projected Starting Lineup:

Jennings, Meeks, Butler, Smith, Drummond

Team Outlook: With Stan Van Gundy in town, things are on the rise in Detroit. But I don't think they'll see the on-court benefits of that just yet. They have a pretty big problem at small forward, and the Greg Monroe situation needs to work itself out. Expect them to be very active in the trade market as they rebuild the roster around Andre Drummond and Josh Smith.


Worst Case Scenario: 32 wins. This situation is so bad that even Van Gundy is unable to rectify it in his first year. The crowded frontcourt continues to be a problem, as the new coach can't find a way to fit Smith, Monroe, and Drummond into the lineup, and the bottom drops out.
Best Case Scenario: 44 wins. Andre Drummond continues to develop his raw talent and Monroe embraces his role off the bench and absolutely dominates every opponent's second unit.
11. Milwaukee Bucks
Projected Starting Lineup:

Knight, Dudley, Parker, Ilyasova, Sanders

Team Outlook: I like what's cooking in Milwaukee. It's easy to expect bounce back seasons from O.J. Mayo and Larry Sanders, because those two players fell off a cliff last year (when healthy). Ersan Ilyasova should be better, as should Giannis Antetokounmpo in his second season. He'll be getting more consistent minutes, and his raw athleticism should continue to translate into very good basketball. Of course, drafting Jabari Parker was another important move, and he should be their franchise cornerstone for years to come.
Worst Case Scenario: 21 wins. Mayo and Sanders aren't able to return from their horrible 2013-14 campaigns, and in the end, the only bright spots are Jabari Parker and Giannis Antetokounmpo putting up stats on a horrible team.
Best Case Scenario: 44 wins. Mayo, Sanders, and Ilyasova come back stronger than ever, the Greek Freak becomes an absolute monster, and Jabari Parker does what he was brought to the Bucks to do: score. In this world, they sneak into the playoffs.
12. Orlando Magic
Projected Starting Lineup: Payton, Oladipo, Harris, Frye, Vucevic

Team Outlook: Victor Oladipo will be missing for about the first 20 games of the season, which makes an already bad team even worse. I thought they'd be sort of frisky last season, but were clearly in all-out tank mode. I love what they did in the draft, getting Elfrid Payton and Aaron Gordon, but without their best player from last year, Arron Afflalo, and another one of their top players for the beginning of the year, I wouldn't expect much of anything from Orlando.
Worst Case Scenario: 19 wins. Too much responsibility falls upon the young guys too early in their careers, and outside of Channing Frye, the lack of quality veterans makes it impossible for the Magic to get anything going.
Best Case Scenario: 32 wins. The inexperience doesn't show as much as expected, and the Magic show some great signs headed towards the future.
13. Indiana Pacers
Projected Starting Lineup: Hill, Stuckey, Miles, West, Hibbert

Team Outlook: Losing Paul George in a meaningless scrimmage in preparation for a meaningless tournament was devastating, and will ultimately submarine their season. For a team that was already bad on offense, losing both Lance Stephenson and George, the only two guys that Frank Vogel trusted enough to run their offense last year means that Indiana has a real chance to be dead-last in just about every offensive category. It's time to tank in Indy and re-tool for their star player's return in 2015-16.
Worst Case Scenario: 20 wins. The defense suffers from the loss of their two best wing defenders. Unfortunately, those two wing defenders also double as Indiana's best offensive players, and the Pacers flat out suck at everything.
Best Case Scenario: 37 wins. George Hill and David West carry this team offensively, and they continue to play suffocating defense night in and night out. They won't win many games, but they will be tough to play against.
14. Boston Celtics
Projected Starting Lineup: Rondo, Bradley, Green, Sullinger, Olynyk

Team Outlook: Oh no. They are so lucky that Philadelphia is in their conference, because they deserve to be the worst team in the East. They're most likely trading Rondo, and maybe Jeff Green, during the year, which will make them even worse by the time the season is over.
Worst Case Scenario: 17 wins. Way too much Gerald Wallace and Phil Pressey. Keep in mind that without Rondo, those two guys will become even more important.
Best Case Scenario: 28 wins. Rondo rides out the season in Boston, while Marcus Smart and James Young look like absolute steals from this year's draft.
15. Seattle SuperSonics
16. Maccabi Tel Aviv
18. Current Day Bill Russell
19. 2006-07 Cleveland Cavaliers Sans LeBron James
Projected Starting Lineup: Carter-Willaims, McDaniels, Thompson, Noel, Sims
Team Outlook: They are tanking very hard, and for good reason. The Sixers have Joel Embiid stashed away for next year, and if they can get a top 3-5 pick, they could easily have the best young core in the NBA. For now, it's another season of D-League guys and talk about why the NBA should change its Draft Lottery system.
Worst Case Scenario: 0 Wins. If any team can do it, these guys can.
Best Case Scenario: 25 Wins. Michael Carter-Williams continues to look good, and Nerlens Noel is a star in his first year, carrying the rest of their horrible roster to a slightly better season than the last.
But, enough of those scrubs, let's get back to some good teams. Here's the Western Conference now, top-down.
1. San Antonio Spurs Until Further Notice
Projected Starting Lineup: Parker, Green, Leonard, Duncan, Splitter

Team Outlook: The NBA champions are running it back. That's it.
Worst Case Scenario: 55 wins. We're talking about the Spurs. There would have to be a catastrophic injury for this team to get under this win total.
Best Case Scenario: 64 wins. This number could be higher, but we all know that Gregg Popovich will be resting his starters periodically throughout the season.


2. Los Angeles Clippers
Projected Starting Lineup: Paul, Redick, Barnes, Griffin, Jordan

Team Outlook: In season two of the Doc Rivers' era, the Clippers should once again be a great team. And this time, the playoffs won't be overshadowed by a ridiculous off-court storyline the likes of the Donald Sterling scandal last year. Blake Griffin continues to improve every year, and it looks like he's taken over as the best player on what was supposed to be Chris Paul's team.
Worst Case Scenario: 56 wins. Chris Paul struggles to stay healthy once again. That's pretty much the only thing that can derail their season.
Best Case Scenario: 62 wins. Blake Griffin ups his game once again, undoubtedly catapulting himself above Chris Paul for Clippers MVP. Meanwhile, Paul is still there and healthy for the full year, forming a lethal duo.
Projected Starting Lineup: Westbrook, Roberson, Durant, Ibaka, Adams

Team Outlook: Kevin Durant's injury might help them in a weird way. I think we're going to see a new side of Russell Westbrook over the first couple of months of the season, and upon his return, watch out. I only have them as the third seed because even with Westbrook playing at an MVP-caliber level, the rest of the roster isn't good enough to stay ahead of the Spurs and/or Clippers without the actual reigning MVP.
Worst Case Scenario: 53 wins. OKC falls into the bottom half of the Western Conference playoffs as they can't recover from Durant's injury at the beginning of the year.
Best Case Scenario: 63 wins. Westbrook raises his game without KD, becoming one of the top five players in the NBA and carrying the Thunder so well that the return of Durant is only the greatest luxury a team could ever be afforded.
4. Golden State Warriors
Projected Starting Lineup: Curry, Thompson, Barnes, Lee, Bogut

Team Outlook: After refusing to trade Klay Thompson for Kevin Love this summer, it's clear that the Warriors are very much committed to the roster that they've had for the last couple of years. And with a new coach, I see great things ahead. I don't know if they'll win a title, especially with the current state of the Western Conference, but they are giving themselves a great shot at it. Though I still think they should have traded for Love.
Worst Case Scenario: 52 wins. They have the same problems as last season, with Andrew Bogut struggling to stay on the floor and Andre Iguodala and Harrison Barnes each struggling to find a role.
Best Case Scenario: 59 wins. Bogut stays healthy for the majority of the year, giving the Warriors a strong presence under the basket on both ends.
5. Portland Trail Blazers
Projected Starting Lineup: Lillard, Matthews, Batum, Aldridge, Lopez

Team Outlook: It feels like the Blazers should fall off after their somewhat surprising 2014 season, but I'm hanging tough with them. They have pretty much the same team that took them to the playoffs last year, and I see no reason why they should be expected to fall off.
Worst Case Scenario: 49 wins. Last season was a mini-fluke, and the Blazers look more like the slightly above average team they were in the second half in the season. But they'll still be in the playoff race.
Best Case Scenario: 56 wins. Lillard improves again, and the additions of Chris Kaman and Steve Blake to the bench prove to be key, and the Blazers are just about as good as they were last year in a tough West.
6. Memphis Grizzlies
Projected Starting Lineup: Conley, Lee, Pondexter, Randolph, Gasol
Team Outlook: After giving the Thunder quite the scare during the first round of last year's playoffs, Memphis has decided to basically run it back with the same team, as they have for a few years now. Once again, they should be a very good defensive team led by Marc Gasol in the middle and Mike Conley and Tony Allen on the perimeter. Now, they're getting back Quincy Pondexter after he missed almost all of the season due to injury, adding some offense and another wing defender to go along with Allen, giving them a lethal duo. Now, there's also Vince Carter, who has turned himself into a great offensive role player, and you've once again got a dark horse title contender who will be difficult to beat in the playoffs.
Worst Case Scenario: 48 wins. But really, they're the Grizzlies, is this much of a possibility?
Best Case Scenario: 57 wins. Carter and Pondexter help rejuvenate the offense and the Grizz might actually have a chance to win the West.
7. New Orleans Pelicans
Projected Starting Lineup: Holiday, Gordon, Evans, Davis, Asik

Team Outlook: Everything went wrong last year, as the Pelicans were completely decimated by injuries. I liked the roster then, and I love it even more now. Anthony Davis is set to make another leap into the realm of the Jameses and Durants of the world. They added the rim protector alongside Davis that they seemed to be looking for, so good luck to any player who drives to the hoop against the combination of Davis and Asik.
Worst Case Scenario: 36 wins. They can't be as bad as they were last year, but if they fail to click, it won't be a fun season.
Best Case Scenario: 55 wins. The Pelicans are a team with a great deal of variables. If Davis becomes an unquestioned star, Evans and Holiday are more consistent in each of their second years in N'awlins, and Eric Gordon stays healthy (!!!), they're onto something. Call me crazy, but I wouldn't be shocked by this outcome.
8. Houston Rockets
Projected Starting Lineup: Beverley, Harden, Ariza, Jones, Howard

Team Outlook: Daryl Morey had an awful offseason, as he took a gamble to try and lure Chris Bosh immediately after LeBron's departure to Cleveland, and failed miserably. As a result, he was forced to give up Chandler Parsons and was only able to replace him with Trevor Ariza. In addition to trading away Jeremy Lin and Omer Asik to clear cap space for nothing, as it turned out, the Rockets clearly got worse this summer. But, with James Harden and Dwight Howard, they still have enough talent to make the playoffs in a crowded Western Conference.
Worst Case Scenario: 41 wins. The losses prove to be costly, as the Rockets can't find bench production from anywhere, as Harden and Howard drag this team to .500.
Best Case Scenario: 53 wins. Ariza isn't too much of a downgrade from Parsons, and guys like Isaiah Canaan and Donatas Motiejunas step up and provide important minutes off the bench, resulting in Houston being just about as good as it was last year.
9. Dallas Mavericks
Projected Starting Lineup: Nelson, Ellis, Parsons, Nowitzki, Chandler

Team Outlook: The Mavs acquired Tyson Chandler and Chandler Parsons this offseason, yet I have them falling out of the playoffs. I watched Tyson Chandler on the Knicks last year. Trust me when I tell you that it was not a fun experience. As for Parsons, I'm excited to see what he can do with Dirk, which should be fun to watch. But, I don't think these acquisitions and Jameer Nelson make up for the losses of Jose Calderon, Vince Carter, Shawn Marion, and the addition of a couple of more competitive teams around them in the West.
Worst Case Scenario: 43 wins. Chandler is as washed up as he was last year in New York, and the defense is a real problem.
Best Case Scenario: 52 wins. The offense clicks and Tyson Chandler is a defensive behemoth once again.
Projected Starting Lineup: Dragic, Bledsoe, Marcus, Markieff, Plumlee
Team Outlook: After seemingly trying whatever they could to not overpay Eric Bledsoe this offseason, they ended up bringing him back at a reasonable price. The Suns did however lose Channing Frye, who was an important stretch big man for them last year. I'm going to love watching them this season, especially given their great rotation of three point guards now that they've added Isaiah Thomas to Dragic and Bledsoe, but I have them missing the playoffs once again.
Worst Case Scenario: 39 wins. Last season was just full of players having career years, and everything falls apart.
Best Case Scenario: 51 wins. The loss of Frye doesn't matter all that much, everyone continues to improve, and Isaiah Thomas is a great catalyst off the bench.
11. Denver Nuggets
Projected Starting Lineup: Lawson, Afflalo, Gallinari, Faried, Mozgov

Team Outlook: The Nuggets aren't necessarily a bad team, just an unlucky one. They probably would make the playoffs in the Eastern Conference, but unfortunately for them, they don't play in the East. Much like the Raptors, this team goes two deep at every position with quality players. After being submarined by injuries, they should be a decent team this year.
Worst Case Scenario: 38 wins. A tough conference forces a nice little team to look bad at times.
Best Case Scenario: 49 wins. It all comes together and Denver butts their way into the playoffs.
12. Sacramento Kings
Projected Starting Lineup: Collison, McLemore, Gay, Evans, Cousins

Team Outlook: After letting Isaiah Thomas walk while getting nothing in return, the Kings are set to rely solely on Boogie Cousins this season. Yeah, okay. I keep trying to talk myself into Cousins being an absolute monster, but the team simply isn't set up to facilitate that leap. There are nice individual pieces, but everything else looks to be just about mediocre in the end. Don't try to sell me on Rudy Gay being able to combine with Cousins to provide a great pair, because that's not enough with this supporting cast.


Worst Case Scenario: 25 wins. The loss of Thomas is deadly, and Cousins gives up and reverts back to full on malcontent mode.
Best Case Scenario: 37 wins. Boogie improves, but not enough to carry Sacramento into the playoffs.
13. Minnesota Timberwolves
Projected Starting Lineup: Rubio, Martin, Wiggins, Young, Pekovic

Team Outlook: The future looks bright, but the present looks bleak and weird. It seems that the Wolves are interested in being a psuedo-contender for now, which is a weird strategy. I love Thad Young and Nikola Pekovic, but those are two guys that probably shouldn't be in Minnesota right now, In a weird way, they're too good. The team as a whole is good to be in full-on tank mode, and Young and Pekovic are blocking spots for Anthony Bennett and Gorgui Dieng to showcase their talents on a nightly basis. I love what they got out of the Love trade, but they need to put the responsibility on the younger guys for now, have them be awful this year, and see what they can get out of the draft.
Worst Case Scenario: 24 wins. Wiggins, LaVine, and Bennett can't contribute from the get-go which spells trouble.
Best Case Scenario: 33 wins. They're a middling team in a tough conference.
Projected Starting Lineup: Burke, Burks, Hayward, Kanter, Favors
Team Outlook:
Photo courtesy of Action on Armed Violence
Worst Case Scenario:
16 wins. Kanter and Favors don't improve, and the Heyward contract looks absolutely stupid.
Best Case Scenario: 32 wins. The two young bigs finally have the breakout year that we've all been waiting for, the backcourt looks solid, and generally the team plays well together.
15. Los Angeles Lakers
Projected Starting Lineup: Lin, Bryant, Johnson, Boozer, Hill
Team Outlook: Get ready for the two year long Kobe Bryant farewell tour, as he's the only player on this team who is going to consistently get his offensively. Pretty much everyone else on this roster is average or worse, which spells doom for the Lakers. I'm excited to see Julius Randle showcased regularly, but that's about where it ends. No matter how you slice it, they are going to have one of the worst defense in the league, which should be exacerbated by playing in the Western Conference.


Worst Case Scenario: 18 wins. Kobe looks as old as he actually is, and is unable to provide a consistent offensive presence. Meanwhile, the defense hemorrhages points nightly.
Best Case Scenario: 34 wins. Taking so much time off helps Bryant as he looks spry in one of his final seasons. He creeps up near the scoring leaders, allowing the Lakers to simply outscore their opponents on occasion.

So, there may be a couple of surprises among those, but generally I feel like my standings are in compliance with just about everyone else's. Now it's time for the playoffs, where I think you'll see a good amount of the same things you can read elsewhere.
But you're already this far into the article, so just suck it up and keep reading.
Eastern Conference Quarterfinals
(1) Bulls over (8) Knicks in 5.
(2) Cavaliers over (7) Heat in 5. Well...this was unintentional.
(3) Wizards over (6) Hawks in 6.
(5) Hornets over (4) Raptors in 6.
Eastern Conference Semifinals
(1) Bulls over (5) Hornets in 6.
(2) Cavaliers over (3) Wizards in 7.
Eastern Conference Finals
(2) Cavaliers over (1) Bulls in 7.
Western Conference Quarterfinals
(1) Spurs over (8) Rockets in 6.
(2) Clippers over (7) Pelicans in 7.
(3) Thunder over (6) Grizzlies in 6.
(4) Warriors over (5) Trail Blazers in 6.
Western Conference Semifinals
(1) Spurs over (4) Warriors in 6.
(3) Thunder over (2) Clippers in 6.
Western Conference Finals
(3) Thunder over (1) Spurs in 6.
And now it's time to pick a winner. This entire article, and these next eight months will all lead to one purpose: the Larry O'Brien Trophy. And I'm going with an unpopular pick here. After getting Kevin Durant back from injury, the Thunder will be a good team adding the second best player in the game. And, they have a major continuity and chemistry advantage over the Cavs, whose team is led by two players added this offseason who have never played with one another. In a tough series, the Thunder will scrape by.
Thunder in 7.
Finals MVP: Kevin Durant
Awards
MVP: LeBron James
Rookie of the Year: Nerlens Noel
Defensive Player of the Year: Anthony Davis
Coach of the Year: Randy Whitman
Sixth Man of the Year: Isaiah Thomas
Most Improved Player: Kawhi Leonard (I'm running it back from last year.)
Executive of the Year: David Griffin. Getting LeBron James gives him the win by default.
All-NBA First Team: Russell Westbrook, Derrick Rose, LeBron James, Anthony Davis, Dwight Howard
All-NBA Second Team: Chris Paul, Stephen Curry, Carmelo Anthony, Blake Griffin, Al Jefferson
All-NBA Third Team: John Wall, Tony Parker, Kevin Durant, Chris Bosh, Joakim Noah
Bold and Unnecessary Predictions That I'm Making Anyway
The Lakers will win the Draft Lottery. I made this prediction last year and it failed. But I feel like the NBA Gods won't allow the Lakers to be this bad for even two years without giving them a gigantic stroke of good luck.
Carmelo Anthony will win the scoring title by 1.5 points. The Triangle Offense was basically made for a guy with Melo's skill set. Even if the Knicks are bad, he's going to put the ball in the hole at an astounding rate.
Derrick Rose plays 75 games. Just a hunch.
Ray Allen does not play a game this season. At this point, I simply don't see him returning to the league in midseason.
The Pelicans will make the playoffs. Finally it will all come together, and Anthony Davis cements himself as one of the top dogs in the league.
The Cavaliers will not win more than 12 of their first 21 games. It takes a while for NBA teams to mesh. About 20 games in is when they'll figure it out and destroy everyone else.
Trade Machine Alert!
Rajon Rondo to the Knicks. He's leaving the Celtics. The Knicks need to fix their point guard situation for the future. They can pull off this deal by sending Boston a couple of expiring contracts, and at least one first round pick, taking on one or two of the Celtics' terrible deals, and committing to Rondo and rebuilding around a core of him and Anthony. That sounds good to me!
'
Andre Iguodala to the Hornets. Charlotte is one or two game-changing pieces away from being a serious contender, and a couple of years away from the maturity of guys like Noah Vonleh and P.J. Hairston, which should put them into the championship hunt if everything goes well. Iguodala is the first of those game-changing pieces. For this to happen, Iggy's relationship with the Golden State braintrust will have to sour to the point where he needs to go, so he gets a nice change in scenery.
David West to the Raptors. A rebuilding Pacers team will enjoy the two expiring deals that they are getting in return, meanwhile the Raptors get a better version of Amir Johnson, the guy they're trading away.
That's all I've got. Enjoy the season. It should be a wild ride.