Photo courtesy of Barron Network
I see the AFC Champion Denver Broncos running away with this division. This is the widest gap between a division champ and second place that I see this year. There just isn't much to get excited about after Manning and Co.
Photo courtesy of The Denver Post
Denver Broncos
2013 Record: 13-3
Yards Per Game: 457.3 (1st in the NFL)
Points Per Game: 37.9 (1st in the NFL. By a wide margin.)
Yards Per Game Allowed: 356 (19th in the NFL)
Points Per Game Allowed: 24.9 (22nd in the NFL)
I don't need to say anything about Denver's offense other than: Peyton Manning is the quarterback.
The defense got a lot better this offseason by acquiring two players who are among the best at their respective positions in defensive end DeMarcus Ware, and safety T.J. Ward. Replacing Dominique Rodgers-Cromartie with Aqib Talib is a slight upgrade, but the other two moves were huge. Add in a full season from Von Miller, the Broncos defense should be one of the best in the league.
After being manhandled by the Seahawks in the Super Bowl, the Broncos re-tooled and look poised to take home the Lombardi Trophy this season. And I'm not sure that anyone can stop them.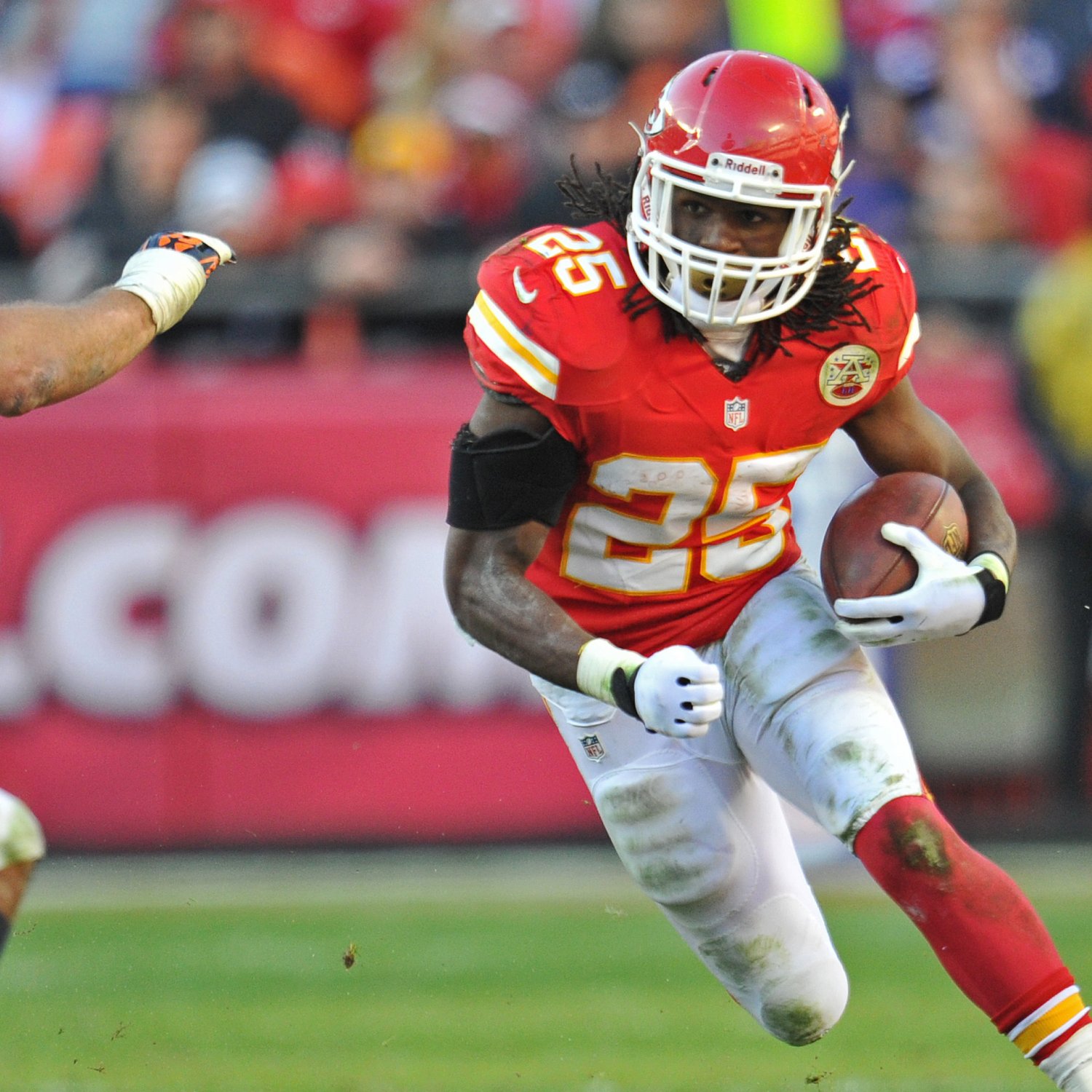 Photo courtesy of Bleacher Report
Kansas City Chiefs
2013 Record: 11-5
Yards Per Game: 337.2 (21st in the NFL)
Points Per Game: 26.9 (tied-6th in the NFL)
Yards Per Game Allowed: 367.8 (24th in the NFL)
Points Per Game Allowed: 19.1 (tied-5th in the NFL)
Regression alert!
Everyone has been going on for months about how the Chiefs will be a lot worse than they were last year, and they are right. The offense will let them down, and they won't have the benefit of an easy schedule.
The offensive line lost a big piece in Branden Albert, leaving behind a very poor unit. Eric Fisher should improve in his second season, but other than center Rodney Hudson, the rest of the line is going to be bad.
Jamaal Charles was the entire Chiefs offense last season, and the laws of physics state that there is no way that he survives another year of being the only playmaker on the team, which means that Andy Reid needs to cut back on Charles's 329 touches from last year.
That is a scary thought considering that the other skill position players on this team are Dwayne Bowe, who is wildly inconsistent, Junior Hemingway, who is bad, and Donnie Avery, who is even worse.
On defense, they will be very good again, because they have greatness at every level. Dontari Poe is a tremendous defensive tackle, Justin Houston and Tamba Hali are scary pass rushers, Derrick Johnson is a great inside linebacker, and Eric Berry is arguably the best safety in the entire NFL,
as long as he doesn't have to cover any horses
.
The defense should keep them in games, but the offense will not be able to score enough points to win many games.
Photo courtesy of CBS Sports
San Diego Chargers
2013 Record: 9-7
Yards Per Game: 393.3 (5th in the NFL)
Points Per Game: 24.8 (12th in the NFL)
Yards Per Game Allowed: 366.5 (23rd in the NFL)
Points Per Game Allowed: 21.8 (11th in the NFL)
They seem to be a rather trendy pick to make some noise this year, but I do not see them repeating their playoff appearance from 2013.
I think that their offense will be slightly worse, just because Philip Rivers isn't going to complete nearly 70% of his passes again. It's simply very hard to do.
The offense should still be among the best in the league because Keenan Allen was amazing in his rookie year, and they are getting back a healthy Malcolm Floyd, who missed most of last year. Ryan Mathews and Danny Woodhead looked very comfortable in Mike McCoy's new offense, and I expect them to repeat that success.
My biggest concern, however, is about this defense. While it felt like the Chargers were awful on defense last year, as you can see by the ranks above, they were better than they seemed. Talent-wise, they are not very good, and didn't get much better during the offseason. I love the acquisition of Brandon Flowers, but the pass rush is pretty bad, so having him and Eric Weddle back in the secondary won't help too much.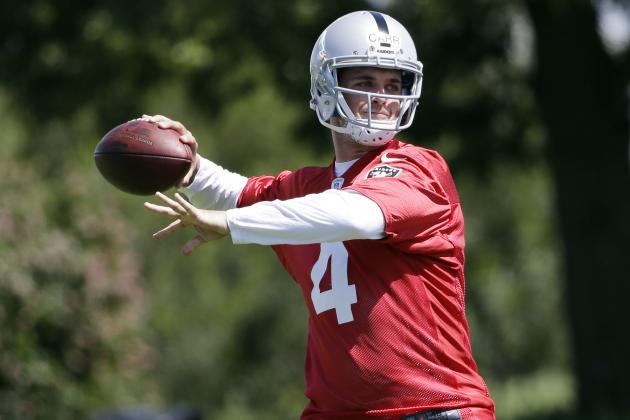 Photo courtesy of Bleacher Report
Oakland Raiders
2013 Record: 4-12
Yards Per Game: 333.8 (23rd in the NFL)
Points Per Game: 20.1 (24th in the NFL)
Yards Per Game Allowed: 363.7 (22nd in the NFL)
Points Per Game Allowed: 28.3 (29th in the NFL)

It's the Raiders. They are bad. That should be expected by now. I like Derek Carr, mostly because I love the idea of the NFL accepting another Carr after the disaster that was David, but he's still playing in a Raiders uniform, which is a death sentence for any young player until further notice. I could ramble on talking about how awful they are all around, but I'll save everyone the time.
Final Standings
Denver Broncos 13-3
San Diego Chargers 8-8
Kansas City Chiefs 6-10
Oakland Raiders 2-14
Bold and Unnecessary Predictions That I'm Making Anyway
Emmanuel Sanders will have 90 receptions this season. The combination of Wes Welker's four game suspension to begin the year, and the fact that Emmanuel Sanders is good means that Sanders will have his best season yet.
Jamaal Charles will have less than 280 total touches this season. I mean, they have to give this man a break at some point. Even though they'll need him now more than ever, I think the Chiefs will chill out with the play calls for Charles.
Keenan Allen will lead the NFL in touchdown receptions this season. He's a huge target and was able to find his way into the endzone 8 times last year. With a full offseason of work as the #1 option under his belt, he'll be even better.
Darren McFadden will have 300 or fewer yards from scrimmage this season. The combination of injuries and ineffectiveness will cause DMC to finally fall out of favor in Oakland.