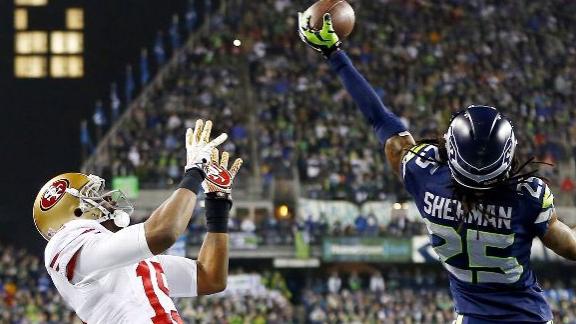 Photo courtesy of ESPN
Read all of my NFL preview articles
here
As a warning, the top part of these rankings is very NFC-heavy. Sort of like the Western Conference in the NBA, the NFC is loaded with great teams, and unfortunately, some of the better teams in the league wind up missing the playoffs, and/or have a record much worse than the team's actual talent would suggest. As seen in my division previews so far, and you will see again in my full preview tomorrow, some teams that I'm relatively high on will end up with lower win totals than you would expect based on their rankings. It is for that reason that I chose not to write down the team records in this article, so that all of these teams can be judged in a vacuum.
All of the rankings are based on how the team will look by the end of the year, and the beginning of the postseason. For example, the 49ers will not be as high as I have them for the entirety of the regular season, but when they get NaVorro Bowman and Aldon Smith back and performing at a high level, they'll be a better squad.
Seattle Seahawks
San Francisco 49ers
Denver Broncos
New Orleans Saints
New England Patriots
Green Bay Packers
Cincinnati Bengals
Baltimore Ravens
Chicago Bears
Washington Professional Football Team
Tampa Bay Buccaneers
Philadelphia Eagles
New York Jets
Miami Dolphins
Pittsburgh Steelers
San Diego Chargers
Indianapolis Colts
Atlanta Falcons
Cleveland Browns
Detroit Lions
Minnesota Vikings
Houston Texans
Arizona Cardinals
New York Giants
Tennessee Titans
Kansas City Chiefs
Carolina Panthers
Dallas Cowboys
St. Louis Rams
Buffalo Bills
Jacksonville Jaguars
Oakland Raiders
I wrote about all of these teams in my divisional previews, so for more information, go back and read all of those.