Photo courtesy of Dynasty Nerds
This is the worst division in football, by far. I don't see any teams getting above 9 wins. Neither the Colts or Texans are spectacular, and the Jaguars and Titans are clearly bottom half teams in the league.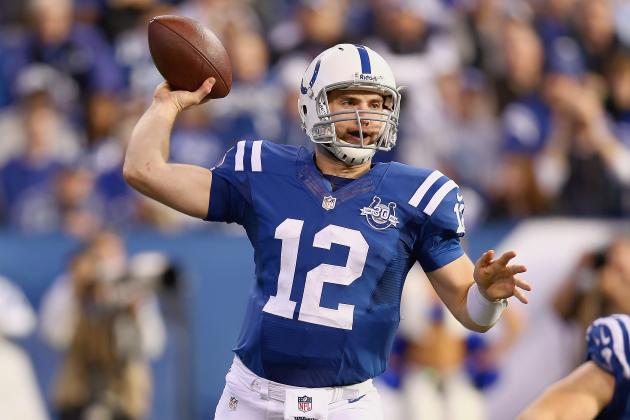 Photo courtesy of Bleacher Report
Indianapolis Colts
2013 Record: 11-5
Yards Per Game: 341.8 (15th in the NFL)
Points Per Game: 24.4 (tied-14th in the NFL)
Yards Per Game Allowed: 357.1 (20th in the NFL)
Points Per Game Allowed: 21 (9th in the NFL)
Now it's time for that point in the preseason where I get to hate on the Colts while trying to do everything possible to find a scenario in which they miss the playoffs, and secretly accepting the fact that they will continue to be the most annoying team in the NFL and be better than they should be.
The only reason why this team has gone 11-5 in each of the past two years has been a bunch of good luck and Luck being more than good.
We know what this offense is: Andrew Luck being Andrew Luck and throwing Andrew Luck passes to T.Y. Hilton, Reggie Wayne, whatever replacement level they decide will be their third wideout, whoever happens to be playing tight end (be it Coby Fleener or Dwayne Allen, both of whom are pretty good), all while getting minimal help from the running backs and the offensive line.
Where this team will falter once again is on defense, especially without the best player on the defense, Robert Mathis, for the first four games of the year. He's pretty much the only player on the defense that interests me, unless I feel like talking about how bad Erik Walden is. Vontae Davis is a great cornerback at times, but tends to be inconsistent.
For the most part, the defense consists of average and below average players who will be playing important roles.
Because this is the worst division in football, the Colts will win it once again, by default. Until they improve their defense, Indianapolis will not be able to advance past the divisional round of the postseason.
Photo courtesy of Fox Sports
Tennessee Titans
2013 Record: 7-9
Yards Per Game: 336.9 (22nd in the NFL)
Points Per Game: 22.6 (19th in the NFL)
Yards Per Game Allowed: 337.9 (14th in the NFL)
Points Per Game Allowed: 23.8 (16th in the NFL)
Everything rests on Jake Locker. If the Titans quarterback can stay healthy, then the Titans will be rather frisky this year, even if they don't win more than 9 games, which I believe is their ultimate ceiling should Locker play a full season.
In each of his first two seasons as the full-time starter, Locker has played in 11 and 7 games, respectively. What has kept the Titans afloat in each of those years was that they had a mediocre at worst backup, whether it be Matt Hasselbeck or Ryan Fitzpatrick.
Now, they have...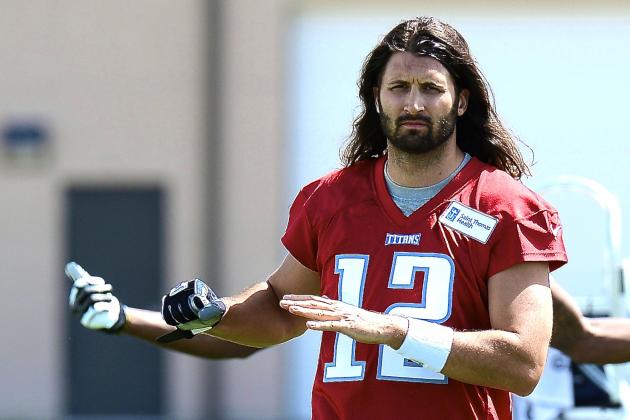 Photo courtesy of Bleacher Report
Yes, that is in fact Josh McRoberts clone, Clipboard Jesus, Charlie Whitehurst. I would never root for an injury, especially to someone that I love as much as Jake Locker, but how fun would it be if Whitehurst entered the game at some point in Week 8, and proceeded to get mauled over and over again by J.J. Watt and Jadeveon Clowney.
A team with clear concerns about the health of their starter should have made sure that they do a better job at insuring that the only backups aren't just one of the worst quarterbacks in the league, who continues to land jobs because he has hilarious hair, and a rookie drafted in the sixth round, Zach Mattenberger.
One of the worst parts of the team in recent years has been their porous offensive line, a concern that they looked to address this offseason. Unfortunately, throwing big money at Michael Oher is just about the dumbest way to improve an offensive line. They also drafted Taylor Lewan in the first round, but he'll probably be on the bench for most of the season because Michael Roos is great at left tackle, and Oher will be too busy robbing Titans management of their millions while blocking nobody. Therefore, I don't know exactly how much Tennessee really improved their line.
Jurrell Casey is an amazing defensive lineman, and should definitely get more recognition this year as one of the better linemen in the league, despite a scheme change causing him to move from the interior to the edge. Other than him, the rest of the defense is fine, but not great. Kamerion Wimbley is the only player who is clearly below average, and Coty Sensabaugh is related to Gerald Sensabaugh, so there's no way that he will look fine again this year. That family name is cursed in defensive back lore.
I don't have the Titans winning many games this year, and that may be a mistake on my part. I just struggled to trust them in many games when filling out my schedule, and once Locker inevitably gets hurt, the season will go into the tank.
Photo courtesy of Zimbio
Jacksonville Jaguars
2013 Record: 4-12
Yards Per Game: 293.8 (31st in the NFL)
Points Per Game: 15.4 (32 in the NFL)
Yards Per Game Allowed: 379.4 (tied-27th in the NFL)
Points Per Game Allowed: 28.1 (28th in the NFL)
There really isn't much to say about the Jaguars. I like Blake Bortles, but the Jags seem adamant on letting him sit this season out for as long as possible, while he gains experience in practice and on the sidelines. That means that Chad Henne will start a lot of games this year, which is terrifying.
Gus Bradley brought over two players in Red Bryant and Chris Clemons (the lineman) from Seattle, where he used to work. The defense is going to be better, especially since they're a rather young unit, but the offense is going to be brutal once again.
Photo courtesy of CBS Houston
Houston Texans
2013 Record: 2-14
Yards Per Game: 347.2 (11th in the NFL)
Points Per Game: 17.2 (31st in the NFL)
Yards Per Game Allowed: 317.6 (7th in the NFL)
Points Per Game Allowed: 26.8 (tied-24th in the NFL)
Here's one of the most interesting teams in the NFL, because they are coming off of a disastrous season, and it's very clear that there's no way that they'll be anywhere near the worst team in the league.
The offense could be fine, but of course that all rides on the quarterback situation, which is
scary
. Ryan Fitzpatrick is below average, and getting worse. Neither Tom Savage nor Ryan Mallett have started a game in the NFL. This is one of the worst QB groups in the league.
If someone steps up and is competent, they'll have a lot of help, thanks to Arian Foster, Andre Johnson, DeAndre Hopkins, and one of the best offensive lines in football.
J.J. Watt and Jadeveon Clowney will be an amazing duo. Watt is probably the best defensive player in all of football, and he is a terror for any and all offensive lines. Clowney is a super-athletic pass rusher, and with Watt attracting the attention of the opponent's best blockers, Clowney has enough help to be great. And, even when other teams are keying in on him, J.J. Watt will still be good at everything a defensive tackle could possibly be good at.
I have questions about the secondary, but that doesn't matter nearly as much when the pass rush is going to be amazing.
Overall, the defense has the potential to be great, with the only weak link being inside linebacker Whitney Mercilus, who is playing next to Brian Cushing, so his shortcomings will be minimized.
Uncertainty under center will cause a pretty good team to be about .500. If one of those QBs turns out to be fine, there's a good chance that the Texans win the division.
Final Standings
Indianapolis Colts 9-7
Houston Texans 8-8
Tennessee Titans 5-11
Jacksonville Jaguars 3-13
Bold and Unnecessary Predictions That I'm Making Anyway
Trent Richardson will rush for 500 for fewer yards this season. He had 563 yards overall and 458 yards in 14 games in Indianapolis, so my prediction isn't wild. It's more of a way to illustrate that Richardson will not be the feature back for the Colts for very long.
Kendall Wright will have 1,450 receiving yards this season. I think he's a very good player, and should have himself a big year, regardless of who plays quarterback in Tennessee.
Blake Bortles will start 4 or fewer games this season. Like I said, the Jaguars are tying themselves to the idea of sitting their QB of the future out for the season, because he's not a finished product.
J.J. Watt and Jadeveon Clowney will combine for 25 sacks this season. It's self explanatory.